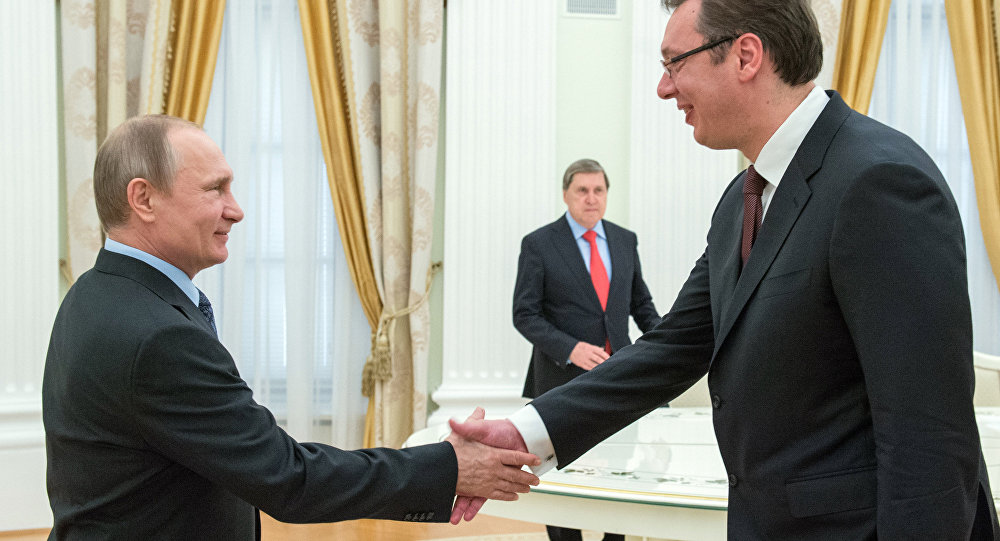 Ahead of his visit to Moscow where he will meet the Russian head of state Vladimir Putin, the Serbian President Aleksandar Vucic received on Monday, the Russian ambassador to Serbia, Aleksandar Chepurin.
At today's meeting, Vucic told Chepurin that he will be "honoured to have the chance to talk with president Putin again", according to the Serbian Presidency press release. The visit to Moscow "will have great importance for the further strengthening of the friendship between the Serbian and Russian peoples as well as for the comprehensive co-operation of the two countries".
Vucic and Chepurin have already discussed "strategic projects of economic co-operation in different domains such as energy and infrastructure". Vucic reiterated that peace and co-operation in the region are the basis of the Serbian foreign policy. At the same time "nothing can jeopardise the sovereignty and independence of our country", Vucic said, adding that Serbia will remain a militarily neutral country.
"There is no doubt that the visit of Serbian President Aleksandar Vucic to Moscow and his 13th meeting … with Vladimir Putin on October 2 will be under the floodlights of the West", reports semi-state owned Serbian daily Vecernje novosti. The West would be very interested in the visit especially in the context of the "stagnation of the talks" between Belgrade and Pristina and Vucic's recent visit to China.
Vucic was in Beijing last week, where he had a meeting with China's Xi Jinping. The numerous bilateral business deals have been concluded during the visit.
"The fact is that the co-operation of Serbia with Russia and China is getting ever more intensive, not only in the political, but also in the economic domain, too", the Belgrade daily comments, which quotes analysts who say they do not expect Western pressures against Serbia.
Serbia's policy of neutrality should not bother anyone, according to former Foreign Minister Vladislav Jovanovic. "The Americans would probably like to only have influence in this region, but that was never the case and will not be …. The West has its NATO office within our army's General Staff; Russia and China can only dream about it", Jovanovic said.
At the same time, "Russia and China do not set (any) preconditions to Serbia in the sense of demanding less co-operation with the United States", the former diplomat concluded…. / ΙΒΝΑ
Main Photo (File): President Vucic (R) at a previous meeting with his Russian counterpart, Putin