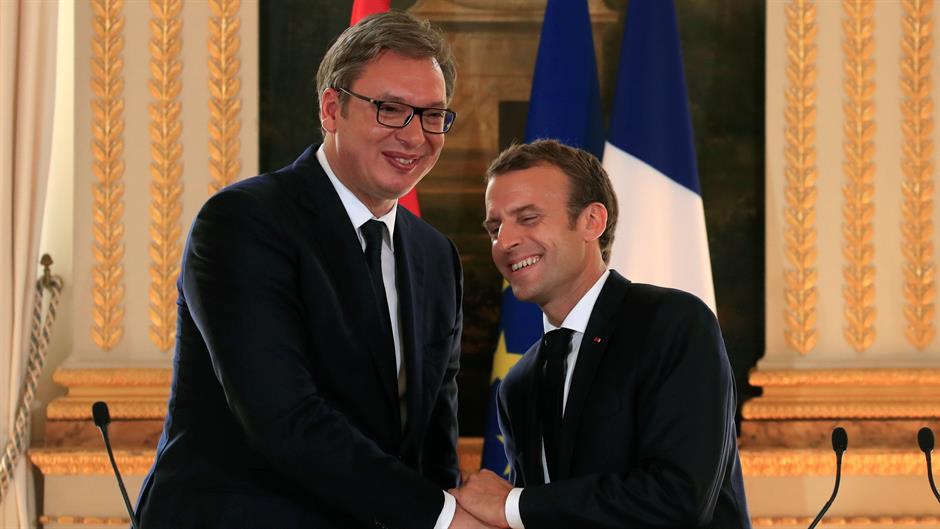 It seems that the French president, Emmanuel Macron has become highly popular among some Balkans leaders. On Sunday, the Croatian president Kolinda Grabar Kitarovic couldn't stop hugging him during the final match of the football World Cup in Moscow between France and Croatia.
On Tuesday, the Serbian president Aleksandar Vucic kept pestering him -as the former put it- to visit Serbia, until Macron was finally persuaded and gave in, accepting the invite. His visit will take place later in 2018.
"Today, I was successful… I have pestered and pestered president Macron to make him promise me that he will come to Serbia", said Vucic at the joint press conference with his French counterpart in Paris.
He said that he had already held two meetings with Macron in Paris, while his host has not yet visited Serbia. "In the end, I succeeded, and I told him (Macron) that I will convey this to the Serbian public and that he should not be angry I would do so", Vucic said.
Then he turned to Macron telling him: "We are expecting you wholeheartedly as soon as possible".
RTS quoted him as saying, "And I am confirming I will. I want to thank president Vucic for his invitation to come to Serbia on November 11. I also want to respect that invitation".
But Macron has also invited Vucic to visit France on the same day, in order to attend The Peace Forum.
November 11 is the Armistice Day, an important day for Europe as it is commemorating and marking the armistice signed between the Allies of World War I and Germany at Compiègne, France, for the cessation of hostilities on the Western Front of World War I, which took effect at eleven o'clock in the morning—the "eleventh hour of the eleventh day of the eleventh month" of 1918.
Vucic's official mission in Paris was to get Macron's support in finding a compromise solution in the negotiations between Belgrade and Pristina. And he got that support, as he said.
"France is now much more important for our region and for the whole of Europe than it used to be in the past", the Serbian president said among other things.
Macron referred to the centenary of the Great War's end, recalling that Serbian people had suffered many victims and had demonstrated great courage.
"Sometimes we forget how close we were during those times. In 1915, the French army evacuated the Serbian military, equipped it and organised it. After that, we liberated Serbia together", French president said.
Turning to current events, Macron reiterated his position that the European Union should not accept new member-states before reforms are conducted until 2025. Enlargement before that date would not be beneficial to the countries that want to join the Union, Serbia included, he stressed.
Additionally, Macron stressed that the enlargement would not necessary occur in 2025, because candidates have to fulfill all necessary preconditions in order to get invited to join.
Vucic and Macron met a day before the Serbian President is due to meet with his Kosovo counterpart, Hashim Thaci and the EU High Representative, Federica Mogherini, in Brussels…. / IBNA