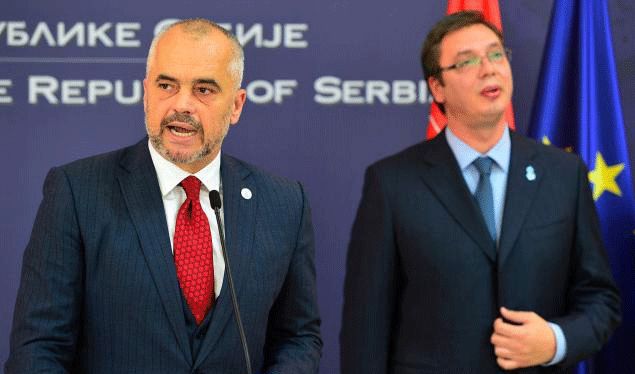 Belgrade, April 7, 2015/ Independent Balkan News Agency
By Milos Mitrovic
Fresh row between Albania and Serbia has emerged after Albanian Prime Minister Edi Rama stated that "if EU doesn't open the path to integration, Albania and Kosovo will unite in the classical manner", Serbian media report today. Serbian PM Aleksandar Vucic reacted by saying that Kosovo and Albania will "never" unite.
According to Tanjug news agency, in the mutual interview with Kosovo's deputy PM Hasim Taci to Klan Kosova TV, Rama said that "unification of Kosovo and Albania has two alternatives, both depending on the EU". "The first is unification within the EU; However, if EU keeps blocking the door to the integration of Kosovo, two countries will be forced to unite in the classical manner", Rama was quoted as saying.
At the same time, Albanian PM suggested that a "unification via EU membership" would be a more desirable solution. Taci added that Rama's statement was not a threat against the EU; in his words, it rather reflects "the reality which may be implemented as a result of isolation of Kosovo by the EU".
Rama reiterated that the fact that the EU visa regime for Kosovo is still at force is "shameful", noting that Brussels has lifted the burden to all other nations in the region. Taci added that Pristina has fulfilled all conditions for visa liberalisation.
Serbian Prime Minister reacted by saying that Kosovo and Albania "will never unite". "I am asking Albanian leaders to stop provoking instability in the region", Aleksandar Vucic stated in his Twitter account.
Rama's statements "represent an attack against peace, as well as harsh threat to stability in the region and dangerous call for borders in the Balkans to be changed", head of Serbian government's office for Kosovo and Metohija said today. Marko Djuric added that such remarks could only jeopardize the fragile stability in the region. He suggested that international organisations such as the EU and UN should react.
In October 2014, the incidental football match between Serbia and Albania in Belgrade and statements from Tirane and Belgrade that followed, resulted in a diplomatic crisis between two countries. However, relations improved at the insistence of the EU. Earlier this year, high Serbian officials visited Tirane, discussing with their hosts mutual projects in infrastructure and transport.