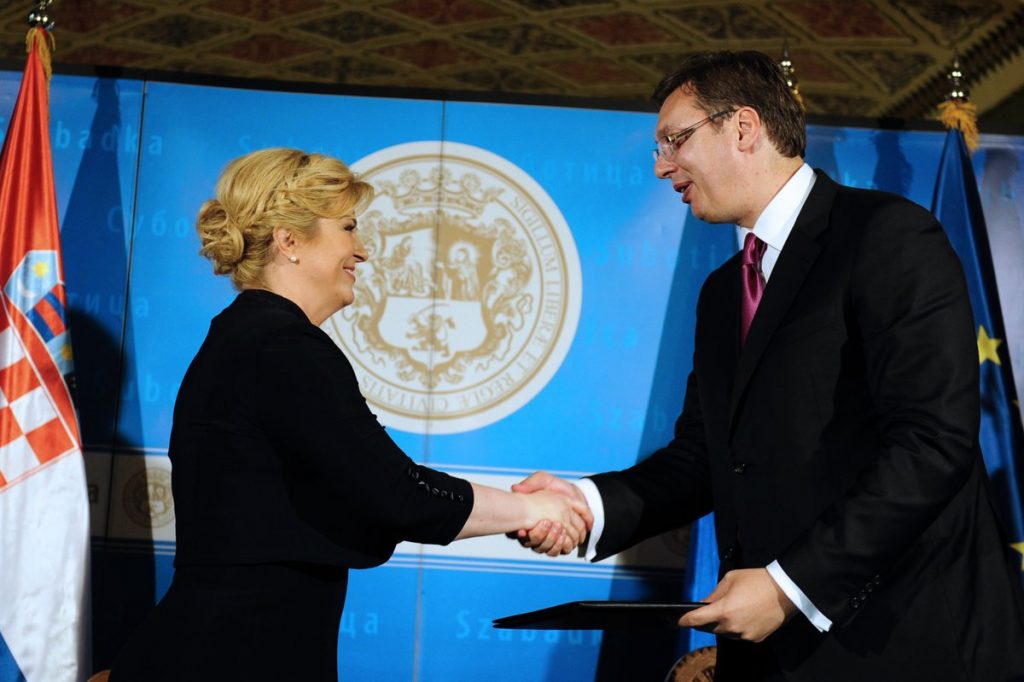 Belgrade, June 20, 2016/Independent Balkan News Agency
By Milos Mitrovic
Serbian Prime Minister Aleksandar Vucic and Croatian President Kolinda Grabar-Kitarovic signed today a document that expresses the willingness of the two countries to improve bilateral relations. "The declaration on improving relations and solving open questions" was signed in Subotica, northern Serbia, a town that represents a center of Croatian national minority. Earlier today Vucic and Grabar-Kitarovic first symbolically met at the bridge over Danube, between Serbia and Croatia.
In Dalj, a village in Croatia mostly inhabited by Serbs, they visited the home of Milutin Milankovic (1879-1958), world famous scientist. After that the two officials continued their tour in Donji Tavankut, near Subotica.
"We want to live in peace, to build more confidence and to create a better atmosphere", Vucic said after the signing of the declaration. The meeting was not incited by the international community, Grabar-Kitarovic stressed in the interview ahead of the meeting. "It was rather motivated by our mutual will to make concrete steps in rapprochement of the two countries", she went on.
The declaration tackles resolving border disputes, the fate of the persons missed during 1990s war, succession issue, cross-border cooperation and more.
"There was no real cooperation between Serbia and Croatia since 2011", said Milorad Pupovac, head of Serbian National Council in Croatia, who attended the meeting in Dalj. "If relations between Serbia and Croatia are cold, Croats in Serbia and Sebrs in Croatia will feel the cold. Let relations become warmer", Pupovac said.
He said that the atmosphere in Croatia is still overloaded with intolerance, hate speech, historical revisionism. There are attempts to prevent Serbs in Croatia to commemorate their calvary at places such as the former Jasenovac and Jadovno concentration camps during World War ll, Pupovac explained.
Vucic and Grabar-Kitarovic also talked with the representatives of Croatian national minority in Donji Tavankut, Serbia.