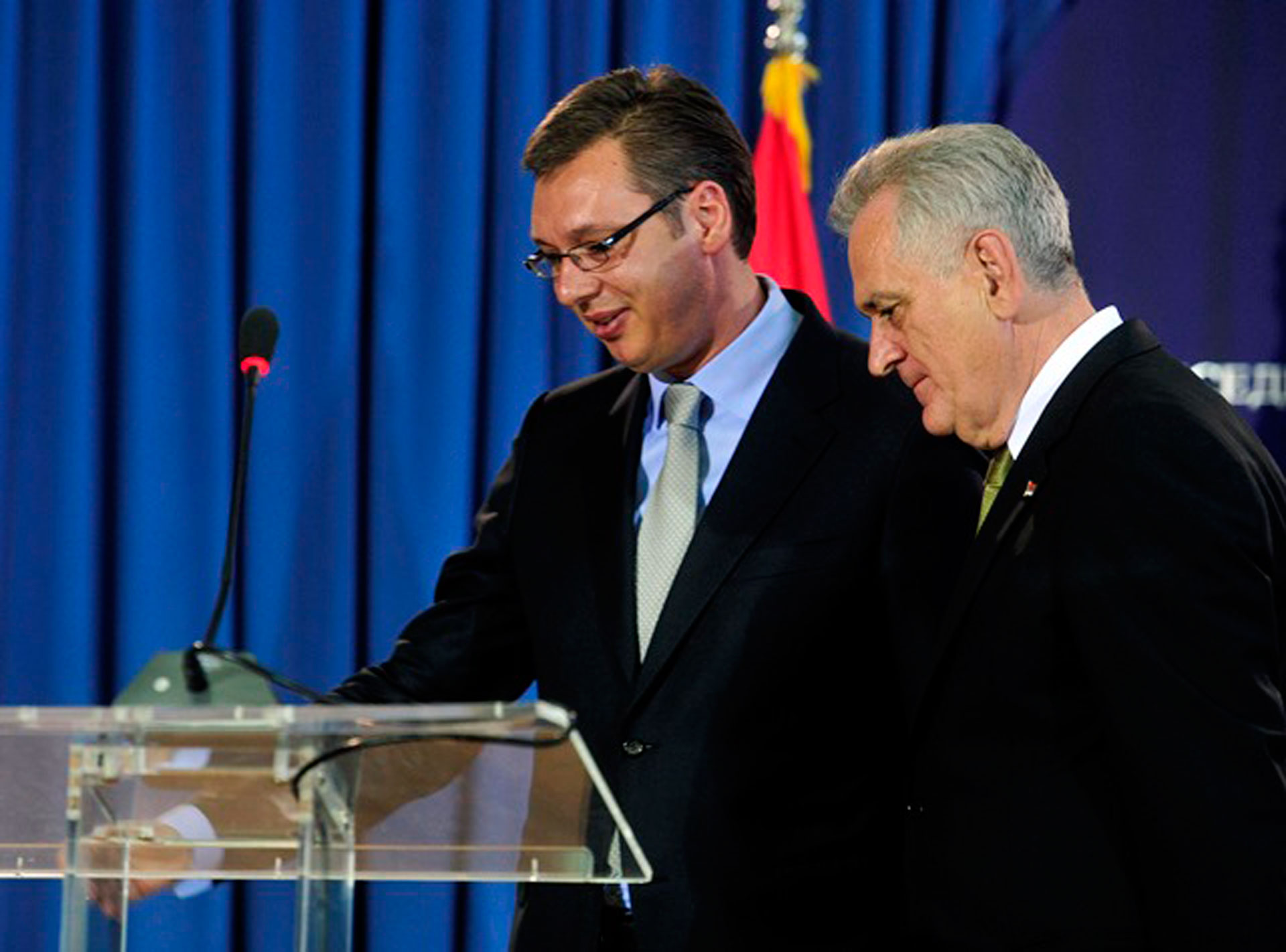 Belgrade, May 25, 2015/ Independent Balkan News Agency
By Milos Mitrovic
There are no and will be not conflicts between President Tomislav Nikolic  and me, Serbian Prime Minister Aleksandar Vucic said on Sunday evening. Talking to several Serbian media editors at the B92 TV, Vucic said that he has full trust in Nikolic, considering his platform on Kosovo and Metohija.
Earlier this year, President Nikolic launched the document in order to contribute finding lasting resolution of the Kosovo issue. However, as Vucic remarked, the reactions of the Western politicians over the platform were "emphatically negative".
The Premier announced that he would discuss platform and Western reactions on it with Nikolic after getting back from the US; At the start of June, Vucic will officially visit Washington where he will meet Vice-President Joe Biden.
Vucic reiterated that the government will not impose sanctions against Russia and stressed that foreign diplomats "don't come to Serbia to bump it on the head any more". In his words, "Serbia is not the lackey of the European Union".
"Serbia is respected in the whole world because it has become reliable partner, it fulfills its commitments, but also because we are aware of our rights and the methods to protect them", Vucic said explaining this would be one of the most important premises that he would use to deliver his conclusion over the platform.
Ahead to his "historic" visit to Tirane later this week – first of an Serbian premier in 70 years – Vucic underlined that "Albania and Albanian people are making an economic and political expansion". "We should try to have very good relations and to strive to bring as many investors to this country (Albania) as possible".
When asked to comment President Nikolic's statement in which he has suggested that countries in the region should "unite" against the "Greater Albania", Vucic answered with question: "What's wrong with that statement?". "What he said was nice".
"Fighting like a lion" with the IMF
In the current negotiations with International Monetary Fund, Vucic is "fighting like a lion" to limit the hike of electricity price, according to his own words. He said that he also insists the wages and pensions to be raised. According to PM, higher consumption would represent an impetus for Serbian economy.