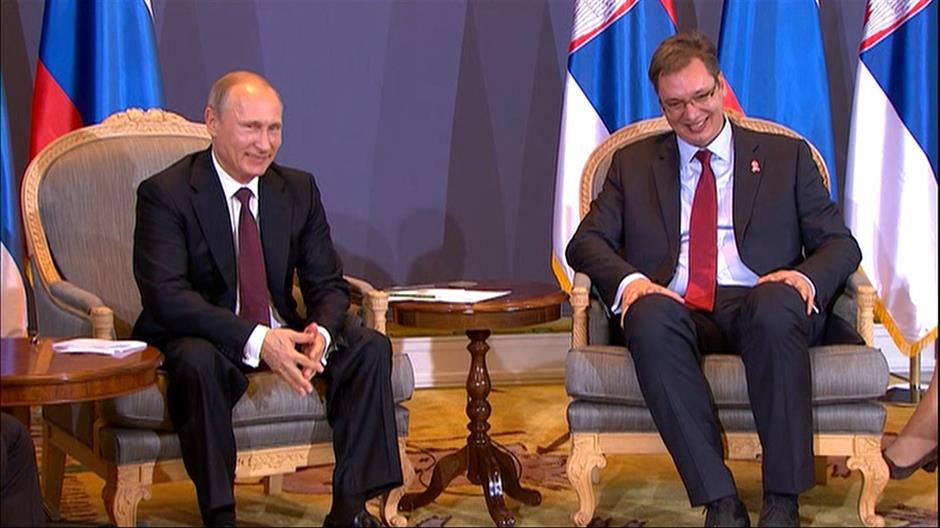 In the beginning of his two-day official visit to the Russian Federation, Serbian president Aleksandar Vucic has suggested that the European Union should take a "more realistic" approach with regard to the result of the referendum held in the former Yugoslav Republic of Macedonia (fYROMacedonia).
Vucic, who will meet the Russian president Vladimir Putin on Tuesday, told reporters that the will of the people in fYROMacedonia should not be neglected.
"It is not on me to meddle in the internal affairs of a sovereign country… I am afraid that some people in the world underestimate us people in the Balkans, and that they believe that everything is possible", Vucic said referring to the referendum that was held on Sunday, September 30.
"They think:'we will try to do it (implement Prespa Agreement) with the people, but if that is not possible, we will do it without the people. We will try to put pressure on the members of the parliament (in Skopje) instead, but if that is not possible, it does not matter…' I appeal on people from Europe and the world to show their respect to us, small peoples, and to try understand what is actually going on", Vucic said.
Serbia's president claimed that he respects democracy and the rule of law.
"Can you imagine me to call for a referendum (in Serbia)? The turnout is some 25,35 percent and I say: 'we have won'. That would be impossible for me. There is democracy, there are constitutions and laws which should be respected even in a situation when one does not like the decision of the people", he said, alluding to the fYROMacedonian referendum result. "I do respect the opinion of the people".
The president said he has expected "more realistic" reaction from the EU. "You should not forget what people think. Europe must be more responsible".
As he clarified, Serbia will respect any kind of agreement between Greece and fYROMacedonia, "but it can not neglect what people think".
The tabloid's… voice
Most of the Serbian newspapers refrained from commenting on the results of the referendum in fYROMacedonia. However, the Informer, the main pro-government tabloid, put the headline on its front-page as following:
"NATO has fallen apart in Macedonia". The low turnout was a "clear message of the Macedonians to both shqiptar hack Zaev (it refers to Zoran Zaev, fYROMacedonia's prime minister) and the whole of the West". The Informer made the specific comment about Zaev, using the Albanian adjective "shqiptar" (an Albanian language ethnonym, by which Albanians call themselves), which has a chauvinistic connotation in the Serbian language…. / ΙΒΝΑ
Main Photo (File): A past meeting between the Russian President Vladimir Putin (L) and his Serbian counterpart Aleksandar Vucic