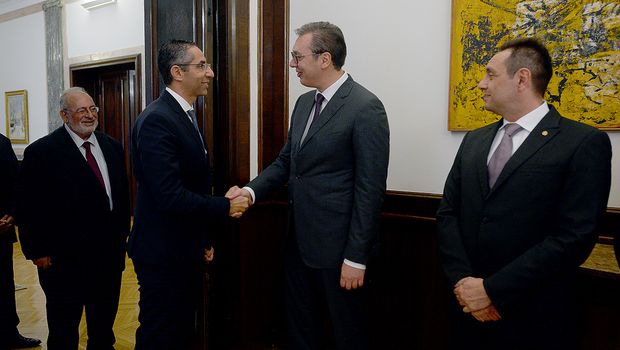 Serbian President Aleksandar Vucic met with Cypriot Defence Minister Savvas Angelides on Wednesday.
The Serbian President emphasized the great importance Serbia attaches to its stable friendship with Cyprus, based on understanding, trust and solidarity.
He thanked Cyprus for helping to protect Serbia and its national interests, notably by not recognizing Kosovo's unilateral declaration of independence, and expressed Serbia's strong stance in support of Cyprus's territorial integrity.
The two men agreed that good political relations are the basis for multidimensional co-operation, including in the field of defence, where there is mutual interest.
Savvas Angelides, for his part, said his country appreciates the participation of the Serbian Army members in the UN Mission in Cyprus, while he briefed the Serbian President on the latest developments in the Eastern Mediterranean and the Cyprus problem.
Vucic asked Savvas Angelides to convey his greetings and sincere thanks to the President of Cyprus for his strong support for Serbia's European integration, which he openly expresses to his colleagues in the European Union.
He also voiced hope that a third joint meeting of the governments of the two countries would be held soon, in order to continue discussions on specific joint projects and other forms of cooperation.
Vucic also noted that Serbia expects activities in Cyprus' exclusive economic zone to be carried out in accordance with international law and with the consent of the Cypriot authorities, in order to prevent the deterioration of the security situation in the region./ibna