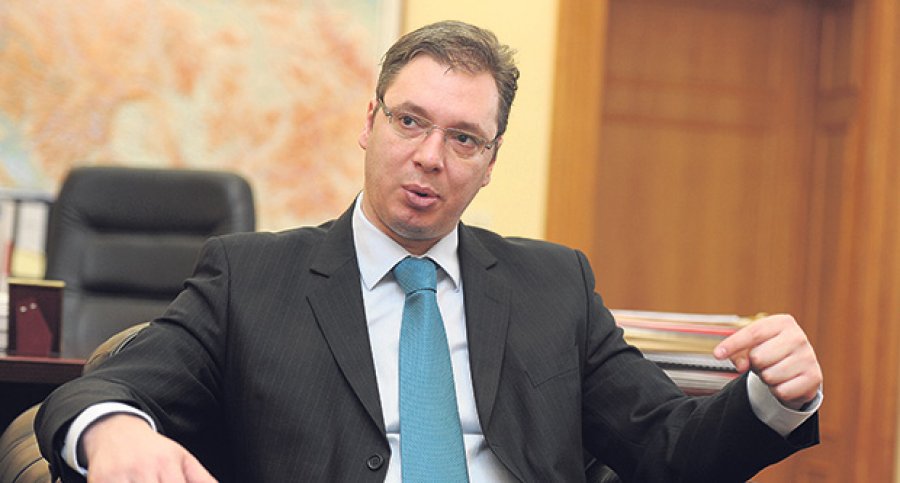 By Milos Mitrovic – Belgrade
Serbian Deputy Prime Minister and Progressives (SNS) leader Aleksandar Vucic has said that his coalition would "probably lose" the elections scheduled for March 16. His statement is contrary to all surveys which suggest that SNS would win more than 40 percent of votes. Velimir Ilic, Construction Minister and leader of New Serbia, Progressives coalition partner, said that he expects SNS list would win 43 percents.
On Sunday Vucic complained that "analysts, media and many others" were making front both against him and SNS "which was not unexpected and I am not pretty concerned". "I am not frightened before the fact that it is more probable that we will lose the elections next month than win it", Vucic told journalists at the press conference.
Vucic also said that "all who want to stop the reforms in Serbia are united owing to the money of tycoons". "In addition to this, there are new founded media which are focused to my private life and the most brutal fabrications. I ask them to continue their job, because they will help me in doing my job", Vucic concluded.
In December Vucic has married for the second time; the information appeared in some media but it had been censured promptly.
Petar Jermic, Journalists` Association of Serbia (UNS) official, said recently that "certain media are creating image that both opposition and anyone who has different opinion are criminals" or connected with tycoons.
Vukasin Obradovic, Independent Journalists Association of Serbia (NUNS) president, shares his position. However, the stigmatization of the opposition as criminals has started long before the current electoral campaign, Obradovic said. "I expect that some tabloids will continue in that regard even stronger as the voting day approaches", Obradovic stressed. "Some media are manifestly siding with some ruling parties and marking the opposition as the criminals at the same time".
Nedim Sejdinovic from Independent Journalists` Association of Vojvodina  was even more precise: "SNS has invented the new populist concept which is struggle against the corruption". Sejdinovic compared the current situation in Serbia with 1990s when opposition has been stigmatized as anti-Serbian. "All who are now courageous enough to criticize Vucic`s omnipotence are being accused to be the members of the alleged structures of  tycoons and criminals", Sejdinovic explained.
"SNS coalition has no worthy rival. The story is over", Velimir Ilic told "Danas" daily on Monday alluding to March elections. Ilic said he was convinced SNS would win landslide victory on March 16 with approximately 43 percent of votes.