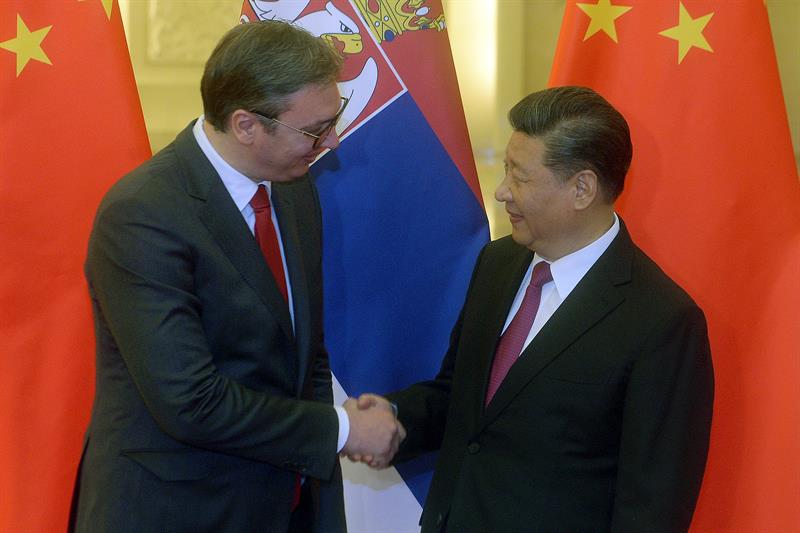 Serbian President Aleksandar Vucic has said that his talks with China's Xi Jinping on Thursday in Beijing "tackled everything that is expected to be discussed when you talk with the first, second or third great power". Vucic said he was proud because "everything was successful" in his talks with the Chinese officials.
As Vucic said, he expects bigger interest of Chinese investors for Serbia. China s position with regard to non-recognizing Kosovo remains firm, he underlined.
Vucic met Xi during the summit "One Belt One Road" which is attended by many officials throughout the world. However, if one hears the Serbian pro-government media reports, one would assume that Vucic is the only one who is invited.
Three days summit will be concluded on Saturday.
Talking to journalists from Serbia, Vucic said that he was "very happy and excited", alleging that his visit to Beijing "means good news for Serbia". "Serbia, which is a small country, has been received so well", Vucic said after meeting with Xi.
The president claimed that Xi could visit Serbia again. As he stated, the Chinese leader has said that his heavy schedule does not allow for him to come soon, but he has "told his foreign minister to find the time".
Xi had visited Serbia in 2016.
"With his smiles he signaled to me that he understands how important that is (visit) for me; he recognized my desire to welcome him". Vucic added that another Xi's visit to Serbia would be the "crown of his career".
Vucic also claimed that Serbian and Chinese representatives have signed a contract on the financing of the Novi Sad – Subotica railroad, "on President Xi's insistence". In his words, this contract had not been planned.
Xi has also given the "green light" for military cooperation, Vucic told journalists.
"Among Chinese there aren't many hugs and kisses, but President Xi has made several times some kind of half-hug, which means that he respects Serbia very much".
That made Vucic "very happy and proud", as he said./ibna