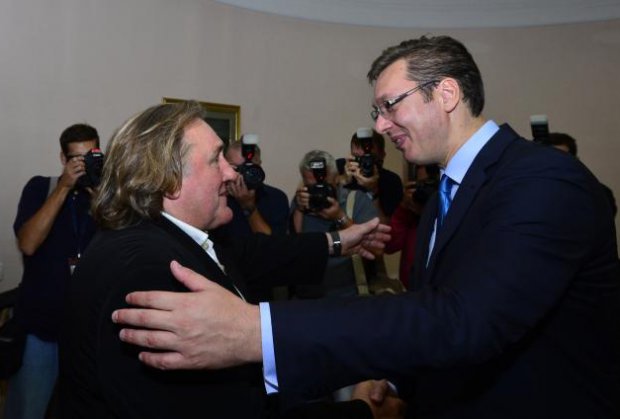 By Milos Mitrovic – Belgrade
French actor and filmmaker Gerard Depardieu has visited Belgrade on Thursday where he had a meeting with Serbian Prime Minister Aleksandar Vucic and has received the award Golden Seal from Yugoslav Film Archive. Depardieu, to whom Russia granted a citizenship in 2013, said that he believes "Putin (Russian president Vladimir) will resolve the problems" in Ukraine. With the ensemble of Belgrade Philharmonic orchestra he has "tried out" in conducting.
Depardieu said he has come in Belgrade for one day because he is interested in local culture and because he has heard that Serbian food is excellent.
After he talked to premier Vucic, Depardieu has said that "Serbia is small country, but the big one in terms of history and culture", Beta news agency reported. He added he was happy to hear from Vucic that many "significant people" would visit Serbia this year. Depardieu rendered he was delighted with the fact that Serbia did not joined European Union's sanctions against Russia. He added, however, he is not "competent" for commenting the situation in Ukraine.
"I am artist and it's not on me to comment it. The problem of Ukraine is nothing new but I am sure that Putin will resolve it", Depardieu concluded.
In January 2013 Putin signed an Executive Order granting Russian citizenship to Depardieu, after actor protested against taxation policy in France feeling himself oppressed. In his first interview thereafter, Depardieu attacked Putin's critics. In February 2013 he registered as a resident of Saransk.
Vucic said he had asked Depardieu if he can "promote" Serbia in the world adding that concrete cooperation is to be agreed. "I am especially happy because mister Depardieu has expressed great respect towards Serbia, to Serbian history and, in some way, to Serbian politics".
Belgrade mayor Sinisa Mali has also been Depardieu's host in Serbian capital. He presented "Belgrade Waterfront" project to the actor who has said he was delighted with it due it would "bring jobs to people in Serbia as well as the investments, new shops, cinemas, restaurants…"
"Belgrade Waterfront" was initiated earlier this year between the Serbian government and Emirati investors. Around 2,5 to 2,8 billion Euros are to be invested by the Serbian government and their Emirati partners, according to agreement between the two sides.
In Yugoslav Film Archive Depardieu was welcomed by culture minister Ivan Tasovac and head of the Archive Radoslav Zelenovic who has gave him the award Golden Seal for his contribution to film. The same awards had been granted to Theo Angelopoulos, Bernardo Bertholuci, Nikita Mikhalkov, Wim Wenders…