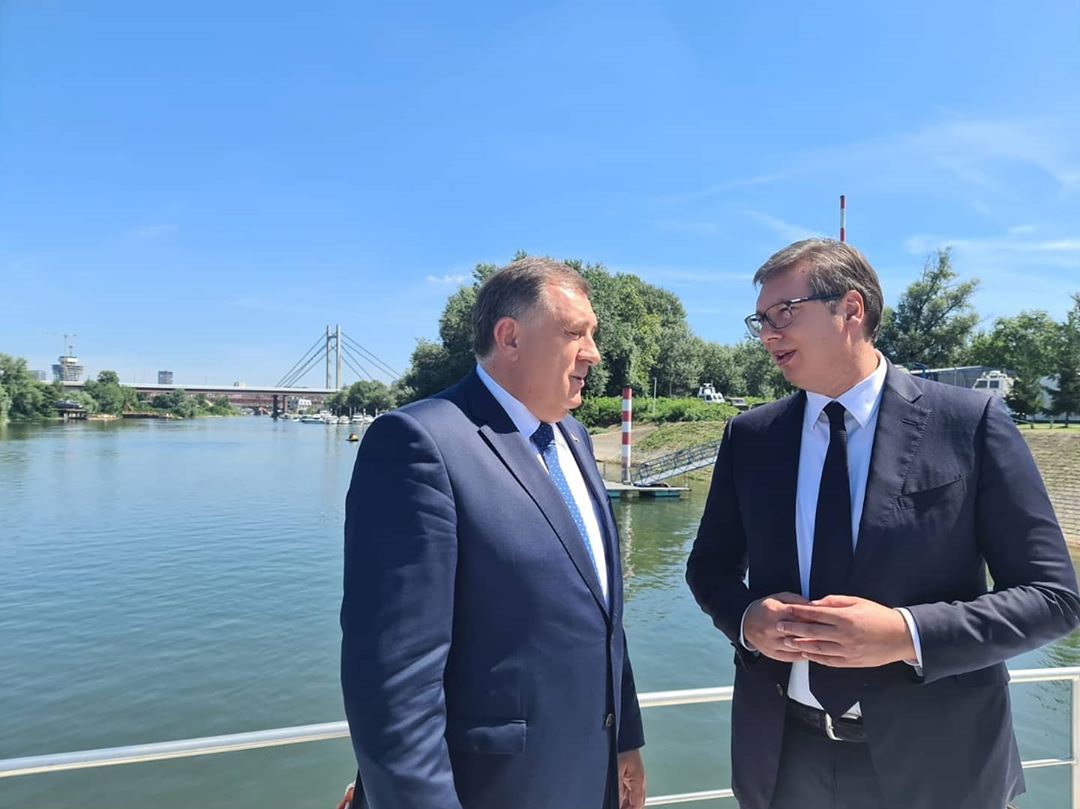 Republika Srpska's highest-officials delegation did not get what they wanted from Serbian president Aleksandar Vučić, after meeting on Wednesday in Belgrade.
Serb member of the BiH Presidency Milorad Dodik, RS president Željka Cvijanović and PM Radovan Višković, traveled to the Serbian capital to propose that the question of the Republika Srpska status in BiH be linked with the status of Kosovo. That is something Dodik expressed as a request during Vučić's recent visit to Banja Luka. The idea triggered discussions and, despite warnings that it is impossible to link those two matters, Dodik kept the idea alive. "Why does Kosovo have the right to separate from Serbia, but the same right was not given to Republika Srpska?" Dodik wondered frequently over the last few weeks.
Vučić was clear: the issue of the status of Republika Srpska cannot be tied to that of Kosovo, but Serbia will insist on economic ties and the preservation of the BiH Constitution as it was concluded in the Dayton Peace Agreement.
Vučić explained that the issues of Kosovo and Republika Srpska should not be connected, as the international community generally opposed it.
"There have always been double standards… Look at how some countries most directly participate in overthrowing other regimes; if Serbia had done even a tenth of that, not only would I have been labelled a dictator, but the whole country would have been cancelled for it", Vučić said.
Surprisingly, after the meeting in Belgrade, there was a U-turn in Dodik's attitude.
"Separation is not on our agenda, but we rather focus on the implementation of the international agreement called the Dayton Peace Agreement and the BiH Constitution, which is an integral part of that agreement – Annex Four. We have the right to do so", Dodik said.
Dodik pointed out that he will always warn that the continued violation of the Dayton Accords and the BiH Constitution is unacceptable, and that the RS is seeking the return of the status under the BiH Constitution. He warns that the latest proposals for constitutional amendments mean a new disempowerment of Republika Srpska, and points out that, on the other hand, Republika Srpska is being found guilty and accused of inciting conflicts.
He points out that the Constitution in BiH is violated via the High Representative and the Constitutional Court's decisions, which reduce the strength and influence of Republika Srpska. Dodik says the Bosniak people have no reason to be afraid of either Serbia or Republika Srpska, but should be afraid of its political leadership, which fails to create sustainable policies.
Therefore, as for now, Dodik softened his attitudes and confirmed that he will not demand a Republika Srpska separation. However, this is an election year and it is expected that he will try again to collect additional support for the "Independent Republika Srpska" narrative which, obviously, constitutes his life goal. /ibna