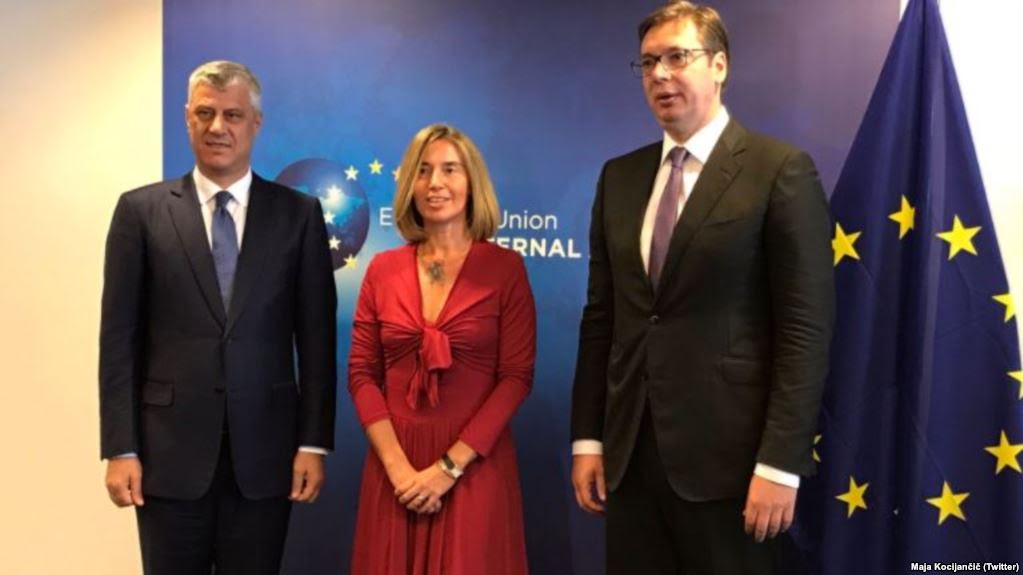 Serbian president Aleksandar Vucic demands an accelerated accession of Serbia to the European Union. He said that at the bilateral meeting with EU diplomacy head Federica Mogherini in Brussels.
Earlier today Vucic took part in trilateral talks with Mogherini and president of Kosovo Hasim Taci within Belgrade-Pristina dialogue. Vucic said that the continuation of the dialogue and implementation of the so far concluded deals have been agreed.
As he told journalists in Brussels, the preparations for the further dialogue would last approximately 45 days; he added that the possibility for dialogue to be continued in presidential level was not excluded.
Serbian government wants to avoid the possibility to negotiate with possible new prime minister of Kosovo Ramus Haradinaj who was charged by Serbia for war crimes.
At the meeting with Mogherini, Vucic requested faster Serbia'a integration into EU. As he explained, he demanded that for the first time "in this way, explicitly". "I think that Mogherini has showed an understanding, that we know exactly when we can become a EU member", Vucic went on.
Using a metaphore, he suggested that Serbia does not want to be lost "like geese in the fog that would certainly find the right way, but would not know when it is going to be ended". In that sense, Serbian leader added that his visit to EU Council president Donad Tusk "around 14 July" will be important.
Serbia, as he said, after significant part of the reforms that it has been implemented, and taking into account the job that is still before the country, requests for its citizens to have a clear perspective and bright objective: "To know where it is and when we are reaching it".
Vucic said that he was not faced with opposition "but rather on understanding of Mogherini and the others". "There should be more serious and more courageous talks on future relations", he stressed./IBNA