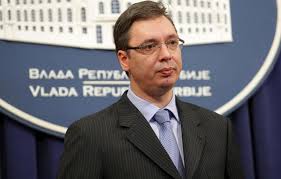 By Milos Mitrovic – Belgrade
Organization for Security and Co-operation in Europe (OSCE) should apologize over its claims that certain websites in Serbia have been censured and blocked during recent floods, prime minister Aleksandar Vucic stated in his letter to OSCE representative for media freedom Dunja Mijatovic. "With the greatest attention and concern I have been following everything you have stated regarding the alleged censorship allegedly conducted by authorities in Serbia", Vucic noted in his letter.
"Deeply concerned due to harsh words you have directed to the country whose government I lead, I was forced to check all the allegations from Your statement. After all, it is not usual for the prime minister of one country to officially respond, in written, to one single written statement. Nevertheless, I am doing this because I believe that you have been deceived and cheated, and I do not want to even think there is some other political intention behind the series of untruth you had claimed against Serbia in your statement", Serbian prime minister underlined.
"I have asked you to inform me about just one, any or even the slightest evidence that would confirm that Government of Serbia had incapacitated websites "Druga strana" and "Teleprompter" or removed anyone's blog from "Blic" daily web page. And of course, no evidence was offered. I do not want to believe, Ms Mijatovic, that you have collected data in the most unprofessional possible way, from one among the websites that are conducting routinely dirty campaign against their own government. I do not want to believe that you did this because those fake data had been transfered to you by the so called Serbian independent institutions and that you did not checked them at all", Vucic stated in his letter to OSCE official.
By saying "so called Serbian independent institutions", PM obviously alluded to remarks on alleged state censorship by Ombudsman Sasa Jankovic and  Commissioner for Information of Public Importance Rodoljub Sabic.
Vucic also alluded that OSCE remarks were connected with Serbian foreign policy: "I also do not want to believe that you did this because of both, the need Serbian leaders to be disciplined and trampling any idea on free and sovereign reacting of the state of Serbia in its foreign political actions", PM stressed.
Last week Vucic told state television that "fact we don't want to impose sanctions to Russia is problem for somebody… So, if this is problem, tell us so, don't fabricate that somebody has removed some website…"
"From you, dear gentlemen from OSCE, I expect just one simple apology and nothing more, after all the untruths you had launched about Serbia", Vucic concluded in his letter adding he would "fight everywhere against the lies you have launched … even at the price you would continue your dirty campaign against me both in Serbia and abroad".