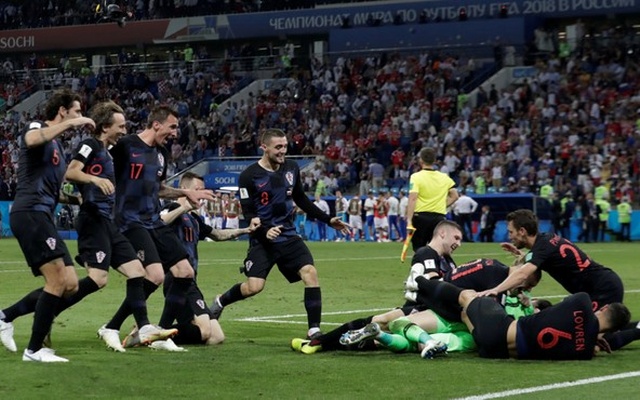 The great success of the Croatian national football team in the ongoing World Championship in Russia has become another reason for deepening political, social and ethnic divisions in Serbia.
The ruling political elite led by president Aleksandar Vucic has "decided" that cheering for Croatian footballers by the citizens of Serbia is not patriotic. By criticizing those who cheer or just allegedly cheer for Croatia, Vucic and his companions haveonce again revealed the hypocrisy of their self-proclaimed leadership in the process of the so called reconciliation and stabilization in the Western Balkans.
The editor in chief of Vucic's favorite tabloid "Informer" has been first to assault the reporter of the national television (RTS), who has allegedly cheered for Croatia during the match against Russia.
"Why RTS reporter cheers for Croats", tweeted Dragan J. Vucicevic during the quarter final match Croatia-Russia. He accused reporter Aleksandar Stojanovic and RTS not only for their alleged cheering for Croatia; in the tweet, he also claimed that there are biased toward the opposition.
"Every Serb who cheers for Croatia against our mother Russia is a fool", he put in another tweet.
Vucicevic's tabloid on regular basis equals all contemporary Croats with the Croatian fascist movement from the Second World War which has committed atrocities against the Serbs.
Within days, Vucic has joined Vucicevic in his absurd accusations. "The reporter (Stojanovic) was so biased that I had to mute the tone on my TV", Vucic said.He said that he was cheering for Russian team and that he will always do so when they play against Croatia.
The result of the reaction of Vucic and his followers was that Stojanovic was pretty restrained during the semifinal match between Croatia and England on Wednesday. Especially after the Croatian team won.
Before that match, foreign minister Ivica Dacic also said that he would not cheer for Croatia. "I couldn't ever imagine that I would say this, but yes: I am going to cheer for England". The choice was difficult for Dacic because he consider both United Kingdom and Croatia of being "anti-Serb".
But he did not explain what allegedly "anti-Serb" politics of London and Zagreb has to do with sports?
Novak Djokovic, Serbian famous tennis player, was targeted by one of the so-called Vucic's patriots in the most horrific manner because he publicly supported the Croatian team. During the Twitter conversation with a follower, Vladimir Djukanovic, member of parliament from Vucic's Serbian Progressive Party, said that both follower and Djokovic were "idiots" and "psychopaths" because they cheered for Croatia.
Dragan Djilas, leader of the opposition movement Alliance for Serbia, criticized Vucic for staying quiet over his MPs attack against Djokovic. "Vladimir Djukanovic wrote that the greatest Serbian athlete Novak Djokovic is an idiot and a psychopath. Aleksandar Vucic did not comment on the statement of his MP for seven days. Shame on you both", Djilas tweeted on Thursday.
Vucic reacted by saying that "in his view" Djukanovic went too far "with his political passion". In a lengthy reply given to the state owned Tanjug news agency, Vucic called Djilas and other opposition politicians "robbers". He also accused Djilas of exploiting Djokovic's popularity for political purposes.
Vucic and his supporters did not reveal for whom they will cheer in the final match Croatia vs. France on Sunday.That would be another difficult choice because they have also been accusing official Paris for anti-Serb bias. And they do not discriminate between governments and footballers./IBNA