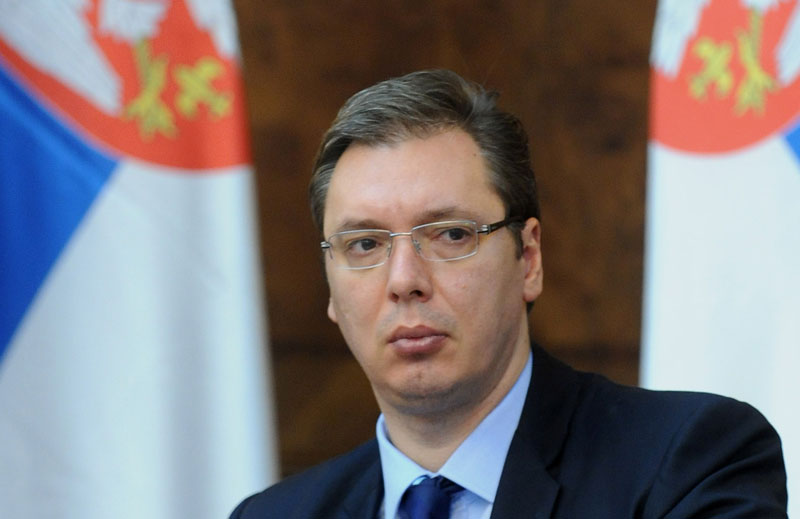 Belgrade, July 13, 2015/ Independent Balkan News Agency
By Milos Mitrovic
Despite the attack he was faced with at the Srebrenica commemoration, Serbian prime minister has promised he would not change his "reconciliation policy".
In the interview for Frankfurter AllgemeineZeitung, AleksandarVucic said that common future must be provided for all, including those who have attacked him on Saturday.
"We have to create common future for everybody, including those who have insulted me", FAZ cited Vucic today. German newspaper quotes him on its front page: "I continue reconciliation policy".
"My hand is still landed. We have to think about the future and to found the basis for the better life of Bosniaqs and Serbs", Vucic said adding that the incident in Srebrenica has strengthened his belief that all efforts should be invested in reconciliation.
However, Vucic has criticized the police of Bosnia-Herzegovina. "I have expected that I would be booed, I have expected verbal insults. But I did not expect organized attack and that Bosnian police would not protect me", Serbian PM went on.
He revealed that Serbian delegation in Srebrenica was sceptical considering the willingness of the Bosnian police to provide them security. Therefore, they have demanded to be protected by the police of Republic of Srpska. "First, they (Sarajevo) have promised they would enable this, but as late as few hours before the start of the commemoration, they told us that the police of the Republic of Srpska is not allowed to enter the memorial site", Vucic explained.
He insisted that attack against him was organized and planned.
"Only if I were deaf and blind I would not to see this", premier said. He declined to comment who were the perpetrators of the attack against him before the investigation is over. However, he said that they were not from Srebrenica, but from some other parts of Bosnia.
FAZ comments that Vucic's decision to come to Srebrenica was courageous.
"At first, it seemed that courage was not worth it. The situation could further deteriorate and the atmosphere in Bosnia was heated because – few days earlier – Russia, as Serbian protector, has vetoed adopting the resolution in the Security Council which marked Srebenica (massacre) as a genocide, which it was", FAZ underlined in its comment.
This daily stated that a number of Bosnian Muslims have believed that Vucic personally demanded veto from Russia in order to prevent adopting the draft which includes word 'genocide'.
"On the other hand, backbreaking discussion about this word leads toward the wrong path, because many politicians which insist on it do not care whether they have rightful approach to the past but rather play their power games in the present", FAZ concluded. "Vucic should not discourage himself. The path to reconciliation in the Balkans is thorny, but the only which is right".