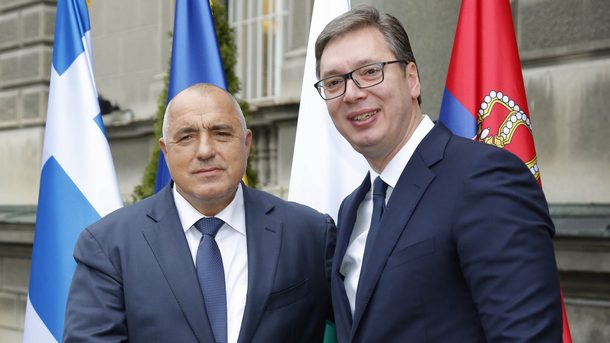 Serbian President Aleksandar Vucic had a phone conversation with Bulgarian Prime Minister Boyko Borissov on Monday, ahead of tomorrow's virtual Supreme Council of the quadripartite co-operation between Serbia, Bulgaria, Romania and Greece. during which initiatives to address the financial impact of the pandemic will be discussed
President Vučić and Prime Minister Borissov agreed that a mutual agreement to facilitate border crossings constituted one of the key elements for encouraging business, especially in the tourism sector, after a long hiatus due to the coronavirus.
In this regard, the two men stressed the need to ensure the implementation of appropriate measures against the pandemic, in order to safeguard the protection of citizens' health and prevent the further spread of infectious diseases, as the US Media Cooperation Agency reports.
The two leaders expressed their satisfaction with the fact that Serbia and Bulgaria were successfully fighting the coronavirus and that the epidemic was getting under control, in the hope that it would soon be fully overcome.
Vučić and Borissov agreed on a forthcoming bilateral meeting to overlook the works on the construction of the highway from Serbia's border with Bulgaria to Sofia, the completion of which will fully connect Serbia with Asia.
At the same time, the two officials stressed the importance of the construction of the Balkan Stream gas pipeline and the interconnection of natural gas between Serbia and Bulgaria.
President Vučić and Prime Minister Borissov expressed hope that the conditions would soon allow for the proper practice of quarterly meetings between the leaders of the Supreme Cooperation Council of Serbia, Romania, Bulgaria and Greece to continue talks on joint infrastructure projects, as well as other forms of cooperation, as stated in the announcement issued by the Serbian Presidency. /ibna