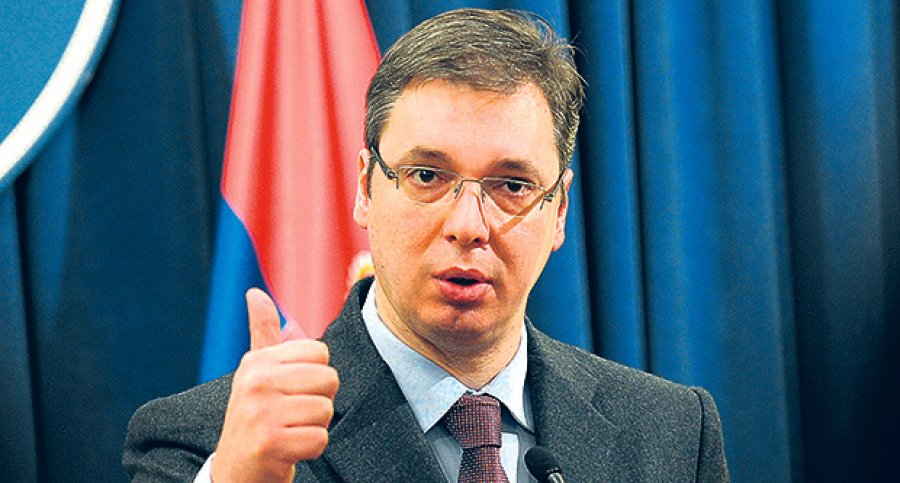 By Milos Mitrovic – Belgrade
Serbian Prime Minister Aleksandar Vucic claimed he has proofs that "many from the international community, including some ambassadors, are putting pressure on media to campaign against him and his family"
"I am strong enough and I have enough strength to confront all those who are attacking my family. We are small, they are big, but this does not mean that I should not defend the freedom tradition of our people. What the political position means to me? I may be dismissed, so what", Vucic said at the press conference on Monday.
Referring to sociologist Jovo Bakic's claims that his brother Andrej Vucic "was lobbying for TV Kopernikus to obtain national frequency", prime minister said his brother "even doesn't know what "Kopernikus" is and did not met anyone from Republic Broadcasting Agency".
TV "Kopernikus" is known as one among the number of pro-government media.
In the meantime, Bakic told "Danas" daily that PM's statements suggest "he had lost his nerves". "Such behavior is typical need of autocrats to look for internal and external foe, to make connections between them and create plots against which he courageously fights", Bakic said.
Vucic also reiterated his allegations that OSCE campaigns against him. "And all that OSCE mission deputy head Paula Tide is doing is putting the pressure on media to campaign against me. They think I will pray for them to stop it. But you will not shush me, and I'll never stop talking because I'm saying the truth and they're lying", Vucic said in the Government.
Earlier this month Vucic demanded the apology from OSCE.
OSCE claimed that some media have been censored and websites shut down amid recent floods in Serbia. On Monday, Vucic said he was sure the apology would follow. "I will not back away before the lies and I don't need help from OSCE".
"Galloping nervousness and incompetence or intentional spinning" may be the cause of Vucic statements, political analyst Djordje Vukadinovic said. He suggested that "relatively low-influential OSCE is being attacked" for Vucic to build his ratings and gain so-called patriotic points on the eve of his visit to Berlin and Angela Merkel on Wednesday. Vukadinovic underlined, however, that OSCE was right over the claims on pressure on Serbian media.
Unusually sharp statements about both OSCE and pressures from international community were not in the Serbian interest and they don't forebode calm days, International Relations Forum head Predrag Simic says. Nonetheless, Simic suggested that pressures from abroad were possible. "It may be the case because of Serbian neutral position on Ukraine conflict", Simic told Beta news agency.
Vucic himself said earlier that OSCE was used for Serbia to get message it should change the position over Ukraine, but stressed that "Serbia will never impose sanctions to Russia".
"Panic, persecution mania or just nervousness. Why?" former Serbian Prime Minister Zoran Zivkovic commented Vucic's statements via Twitter.