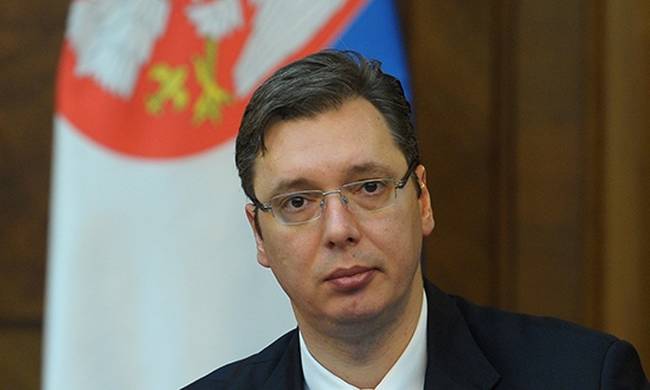 Serbian PM and presidential candidate Aleksandar Vucic has announced that he would not travel to Kosovo where he was to hold a rally in Leposavic on Wednesday.
"I will not take orders from them (Pristina) on whether I would arrive with Vulin, Stefanovic, or somebody else. You won't see that movie," he said late on Tuesday, adding that he canceled the trip "so as not to expose Serbs from Kosovo to unpleasantness."
Vucic said he did not wish to be pressured and blackmailed, and that Albanians from Kosovo "feed one thing to their own media in Pristina, and say something else before the EU in order to appear nice."
He also said he believed Serbs in Kosovo would overwhelmingly vote for "peace and stability."
The Leposavic rally will go ahead without him, Vucic explained, and will be addressed by "other people" who do not require "much approval."
Kosovo Foreign Minister Enver Hoxhaj said earlier on Tuesday that Aleksandar Vucic would be allowed to visit Kosovo on Wednesday.
According to Beta, Hoxhaj also said the visit would "last three hours."
At the press conference with the minister of foreign affairs of Luxembourg, he said that "after a lot of conditioning," a decision was made to allow Vucic to visit Kosovo.
Hoxhaj said this was "a difficult decision for the government because of Serbia's latest provocations – but it was nevertheless made in the spirit of goodwill toward Kosovo's international friends – Germany and the European Union."
Pristina-based media reported on Monday that the Kosovo government decided to "condition" Vucic's visit by demanding that he excludes interior and defense ministers from his delegation – who were "previously banned from entering Kosovo."
Hoxhaj did not say whether such a condition was put before Vucic.
On Monday, Vucic – asked "whether the Kosovo authorities conditioned his March 29 trip to Kosovo and the visit to Leposavic" – said that he was "not informed about it."
"Whether or not there's going to be a ban is their business," Vucic told TV Pink, and added that he "intended to go to Kosovo alone, but was now not sure if he would go at all."/IBNA
Source: B92