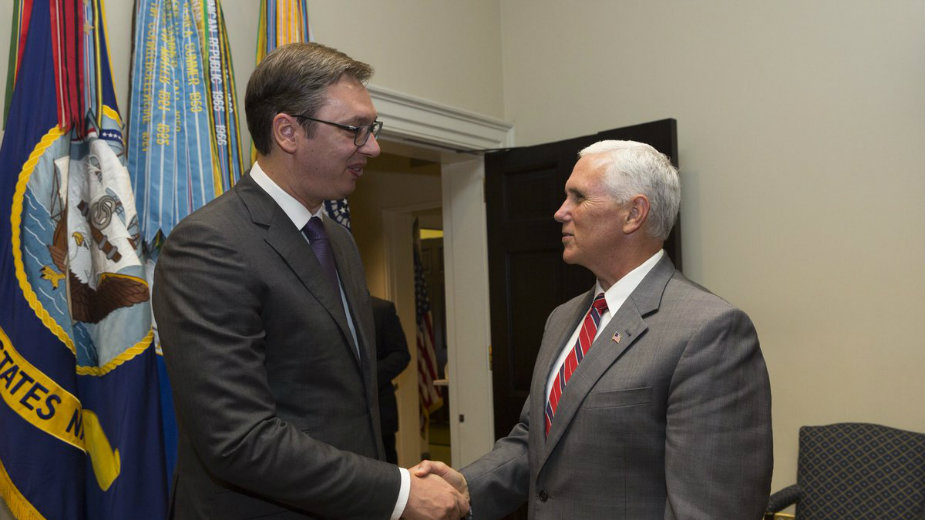 Today, it was good to be a national of Serbia in Washington, Serbian president Aleksandar Vucic said after meeting United States vice president Michael Pence in the White House. Pence and Vucic have discussed "bilateral and regional issues", as  Serbian leader told Serbian journalists in Washington.
Vucic described his encounter with Pence as "extraordinary".
"I have congratulated president (Donald) Trump and Pence their victory, and important things they do for their country… I have invited Trump and Pence to visit Serbia because I think they would have the warmest welcome in our part of Europe", president said. In fact, Vucic conveyed congratulations and visit invitation to Trump via Pence. He did not met his American homologue.
Vucic and Pence, according to Serbian leader, have reached "high level of consent over the key issues". "We have also discussed the questions that represent a problem for both Serbia and the region; I think that we have sent the clear message of how important is to resolve these problems in peaceful and civilized manner, and also to try not to maintain the situation at the level of the frozen conflict in next 100 years, but rather to look for the solutions in the upcoming period", Vucic explained.
The president said that he and Pence have agreed the continuation of their further personal communication. "I think that this meeting – after important encounter with the senators and House of the Representatives members – has contributed to strengthening Serbian-American relations, as well as creating greater confidence and even stronger friendship… It was good to be a national of Serbia in Washington today and receive such kind of respect. I am especially thankful to Pence because he followed me to the door and waited until I got in the car showing a special respect to the Serbian delegation".
"US pressure on Serbia made up"
Ivan Vujacic, former Serbian ambassador in US, told N1 TV that Vucic's visit to Washington was "quite routine", adding that claims that president would be exposed to American pressures over Serbian relations with Russia were "made up".
"Some analysts that do not deal with this issue have launched such an idea and created story that was not grounded in reality. For us (Serbia), as a small country, it's important to go to the US and meet with the top representatives of the administration. In this way US shows interest for this part of the world; on the other hand, the new administration is establishing contacts", Vujacic said.
If somebody has raised the issue of Russia (during the visit), it was president Vucic just because of the sensation that was created, Vujacic concluded./IBNA