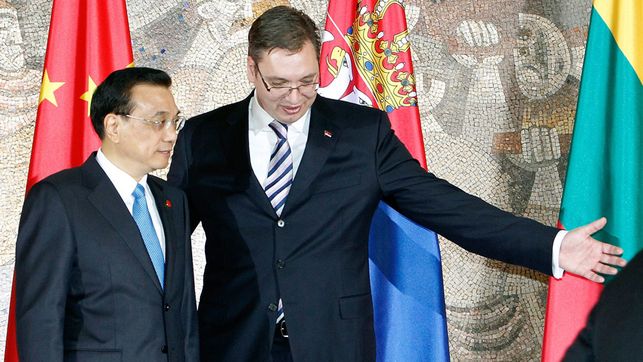 Belgrade, December 18, 2014/ Independent Balkan News Agency
By Milos Mitrovic
The new bridge over the Danube river in Belgrade was opened today by prime ministers of China and Serbia Li Keqiang and Aleksandar Vucic. The construction costs USD 260 million, with 85 percent of the money provided by Exim Bank of China.
"In last two days we had a lot of important meetings, we have reached serious arrangements and signed significant agreements. But this event is far more important than what we did in last two days because it hails actions rather than empty words", Vucic said obviously alluding to Belgrade summit of China and 16 East and Central European countries.
"There's nothing we need more than bridges in order to connect the people, the shores, the past and the future, to foster the obstacles and differences", Vucic said.
On Tuesday, at the opening ceremony of the Third Summit of China and Central and Eastern European countries, Vucic said that the meeting has been "a proof of the political courage of the region, which once was poisoned with wars and violence". "I am proud because Serbia was honored by being the host of the summit which gathers European countries… and because the summit is under the auspices of China".
Over 5,000 members of various delegations from China and Central and Eastern European countries have converged to discuss joint projects on agriculture, industry, tourism, IT, transport and infrastructure. With the construction of the Budapest-Belgrade railway high speed line, and by connecting Belgrade with Piraeus, "China-Europe Land Sea Express Line" will be complete, Li explained on Tuesday.
During the summit, China pledged it would enhance its cooperation with Central and Eastern Europe by establishing an investment fund worth USD 3 billion.
Li, who continued his stay in Belgrade with the bilateral visit to Serbia, the first of a Chinese PM in 28 years, said today that "Chinese and Serbian people have invested maximal efforts, in order for the bridge to be successfully constructed".
Referring to the summit, Li underlined that the Serbian capital was the right choice for the gathering. "Due to its strategic position, Serbia will have even greater role in the advancement of the cooperation within "16 + 1″ group", Li concluded.