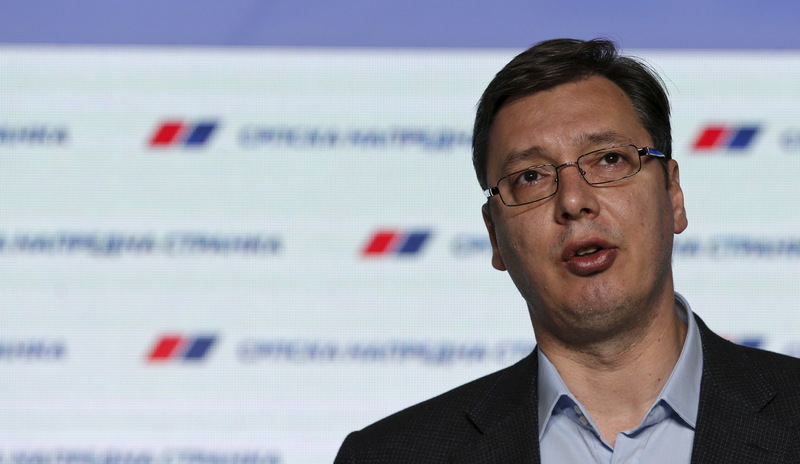 Belgrade, May 12, 2016/Independent Balkan News Agency
By Milos Mitrovic
The political rallies of both ruling party and opposition later this week in Banja Luka, the capital of Republic of Srpska (RS), could evolve into violence, Serbian Prime Minister Aleksandar Vucic warned on Wednesday. Vucic said that Serbian intelligence has suggested such a scenario.
Rallies in Banja Luka are planned for Saturday.
Serbian premier stressed that he has called the leaders of different political parties in RS and appealed to them to do what they can in order for the turmoil to be avoided.
"And again I appeal to all the representatives of the political life in RS to look at the future of RS with full responsibility and to understand that any turmoil and violence could put into question the survival of the RS", Vucic said at the media conference.
He added that Serbia would also come into a difficult position as a consequence "in the period when economic recovery goes much better and beyond what was hoped by the IMF and the World Bank".
"Peace and stability are necessary for Serbia to progress. From that reason I talked with Milorad Dodik, Mladen Ivanic and Mladen Bosic and expressed my concern over this information", Vucic said. Dodik, Ivanic and Bosic are the heads of three main political parties in RS. He suggested that violence could be provoked "by groups that are not influenced by state structures".
The PM concluded that information on possible turmoil "is not dramatic, but more of a warning".
At the same time, the leader of the Serbian Democratic Party (SDS) Mladen Bosic said that he has warned Vucic that "extremists from Serbia" may provoke violence. Bosic told Danas daily that alleged provocateurs would attend the rally of the ruling Party of Independent social democrats (SNSD), led by Milorad Dodik, RS President. Bosic and Dodik are the main political rivals in RS.