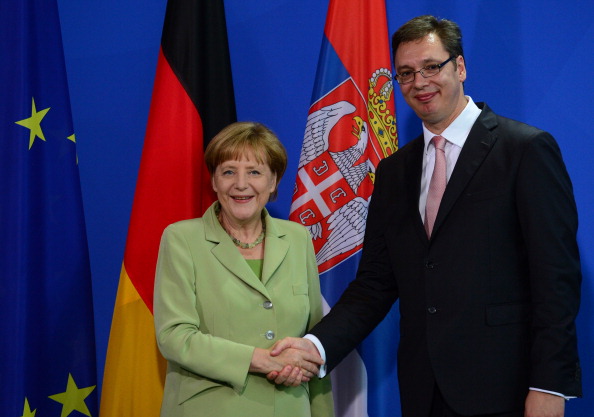 By Milos Mitrovic – Belgrade
Prime Minister Aleksandar Vucic's visit to Berlin on Wednesday was among the main headlines in Serbian newspapers today. The visit that was described by Vucic as historical one – due to the fact he has been the first Serbian premier hosted by German Chancellor in ten years – is expected to boost ties between two countries along with conference on Western Balkans which will be held in Berlin on August 28, as Angela Merkel announced.
"Merkel sees Serbia in the EU" is the top headline in "Blic" daily which, however, underlines German Chancellor's words that Berlin would help Serbia, but has concrete expectations.  Former Serbian ambassador to Germany Ivo Viskovic told "Blic" that Serbia in its path to EU may rely on Germany, but not to the same extent it was the case with Croatia.
The main headline in the semi-state-owned "Politika" is "VUCIC: Germany is the most important country for Serbia". "Serbian government has got the support in a very important moment, and this will mean a lot for it. Exactly this was the main reason for Vucic's visit to Berlin", former diplomat Predrag Simic was quoted as saying. He added that the visit has put an end to debate on some ambassadors in Serbia", obviously alluding to Vucic's statement earlier this week which suggested foreign embassies encouraged media to "campaign against him".
"Danas" daily reported that Merkel has "supported Vucic". This daily has cited Vucic's words from the press conference in Berlin that "Germany should not expect any problems with Serbia which will have good relations with all in the region".
Deutsche Welle (DW) website in Serbian put an accent to concrete Berlin's expectations from Serbia which is "the rule of law, Kosovo, economy".
"Prime Minister has explained me once again that corruption and more transparent legislation issues are in the focus of his demanding reform plans and that parliament (Serbian) will discuss very ambitious legislative agenda", Merkel was quoted as saying by DW. "I have acknowledged to prime minister that stronger engagement of our economy will depend on the level of transparency, clearness and reliability of the legal situation in Serbia; I think that many efforts have been done in this regard".
Portal dnevno.rs put an accent on Vucic's statement during the press conference that he doesn't know if "some member of his government has plagiarized the doctorate". Earlier this month Vucic has strongly rebuffed reports that his closest associate, interior minister Nebojsa Stefanovic plagiarized his PhD thesis. "I've never saw such stupid explanation", Vucic then referred to analysis on Stefanovic's work made by East London University professors.
Most of media noticed that Vucic gave just short answers on journalist's questions; such was the one on media censorship in Serbia. "Everything I had to say about media censorship I told Mrs. Merkel. We are free, democratic country, we are ready for the critics; but the examples of censorship that have been presented to us were simply untruth."
Last week Vucic opened sharp debate with OSCE representatives in Serbia which have expressed their concerns on censorship and websites shutting down. Some accounts during recent floods in Serbia disappeared from the Internet, and pescanik.net was shut down after publishing the analysis on Nebojsa Stefanovic doctorate.
Vucic then claimed OSCE has launched campaign against him because Serbia refuses to impose sanctions to Russia over Ukraine crisis, contrary to EU foreign policy.
When asked by journalist about his position on South Stream, Russian gas distribution project which trace should encompass Serbia, Vucic said he would try to protect interests of both Serbia and Europe. EU and Russia are in the deadlock over South Stream due to Ukraine crisis and Moscow's refusal to abide by EU energy rules. Vucic recalled both that Serbia has signed the contract with Russia and that "Gazprom" has the greatest share in NIS, Serbian Oil Company.
Angela Merkel has explained the interest of Germany for the Balkans. "We have to contribute to development of the whole region and therefore our government has invited all Balkans countries – their prime ministers, foreign ministers and economy ministers – at the conference scheduled for August 28. We have said once again that mutual infrastructure projects are important for the economic recovery of the whole region in order to create profit for the people who live there".