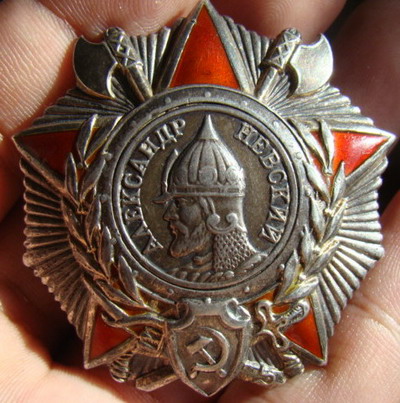 The president of Russia Vladimir Putin has awarded his Serbian counterpart Aleksandar Vucic with the medal of the 'Order of Alexander Nevsky'. Putin signed the document of the awarding on January 7, which both Russian and Serbian orthodox Christians celebrate as Christmas day.
According to Kremlin's press office, Putin awarded Vucic for his "significant contribution to the developing cooperation of the two countries".
Putin will officially visit Serbia later this month. The Kosovo issue will be high on the agenda during his meeting with Vucic, according to earlier accounts.
Several months ago, the media had reported that the Serbian president would be honored with the one of the greatest Russian awards, which is rarely given to the foreign nationals, RTS stated.
On Saturday, Vucic said this would be "a great honor" for him.
"That is the highest award of the Russian state which has not been given to a Serb in the last one hundred years. Previously, only six have been awarded", Vucic said singling out Nikola Pasic, the prime minister of the Kingdom of Serbia, Aleksandar Karadjordjevic, king of Yugoslavia and Karadjordje, the leader of the First Serbian Uprising against the Ottoman Empire in XIX century.
The Russian ambassador Alexander Chepurin congratulated Vucic in his Tweet.
Zorana Mihajlovic, the government's vice president, said that the award "confirms the reputation that Serbia and himself personally (Vucic) enjoys among the great powers".
"I congratulate the president of Serbia for this significant accolade, which has not been received by any Serb in the last one hundred years; I believe that this news should gladden everybody who wants the progress of Serbia and even better relations with its traditional friends like Russia", Mihajlovic said.
Vladimir Djukanovic, member of parliament and Vucic's Serbian Progressive Party, posted on Twitter that the Montenegrin ruler Petar ll Petrovic Njegos was also awarded with 'Order of Alexander Nevsky' in 1833.
At the same time, VukJeremic, leader of the opposition Popular Party (NS), repeated his previous claims by saying that the Russian president "despises" his Serbian colleague. Jeremic tweeted that 'Order of Saint Andrew' is the highest Russian award given to foreign officials.
"The 'Order of Alexander Nevsky' is for lower levels it and it is mostly given to the civil servants of Russia on the occasion of their 20 years work", Jeremic said.
Putin "laughs" and "righteously despises" Vucic, concluded Jeremic, who is former foreign minister and United Nations General Assembly president./IBNA