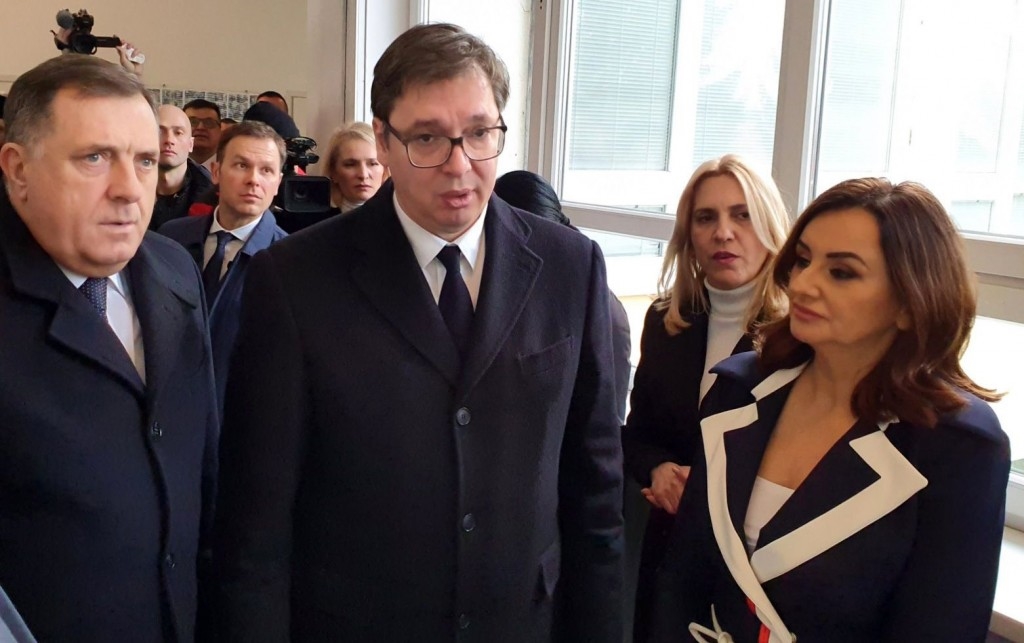 Republic of Serbia President Aleksandar Vučić said today in Mrkonjić Grad, a city in the South of Banja Luka, that the Serb people did not want anything that belonged to someone else. But, he noted, Serbs experienced so many tragedies that they will not allow anyone to expel them from their homes again, as was the case in Mrkonjić Grad in 1995.
"There won't be Storms (Croatian military action in 1995) and tractors in the Serbs future, but there will be jobs, schools, renovated health centres, kindergartens full of children… We want to live with others and be what we are, on our land, and let us keep our names, surnames and the faith of our forefathers", Vučić said in his address to the residents of Mrkonjić Grad.
He has stressed that the Serb people are attacked almost everywhere, as if they are a nation that wants something more than what belongs to them.
"The citizens of Mrkonjić Grad survived a hell in 1995. Almost all the houses were destroyed, the whole town was torched. These hard-working people renovated their homes and refused to leave", Vučić said.
He has said that the Serbs might live in different states, but they are one nation.
"We belong to the same nation and Church and share the same fate. Our people are not ashamed of their Serbian names and surnames. We will have the strength to preserve them in every place where Serbs live", Vučić stressed.
According to him, Serbia has grown stronger every day and will grow even stronger.
"It couldn't have been so strong had there not been your support and love. I will come again to Mrkonjić Grad to see that which we have done. Thank you so much for your huge love for Serbia", Vučić said.
He has added that he is proud to stand before the citizens of Mrkonjić Grad as President of Serbia.
"There is nothing more beautiful to me than to see how much you love Serbia. As much as you love Serbia, that much we love Republika Srpska and we do not hide it. We will be showing it in every place and every day. I am grateful to President Milorad Dodik, whose father died last night, but he expressed the desire to be here to demonstrate the unity of our people", Vučić said.
Serb BiH Presidency member Milorad Dodik said that Serbs, wherever they might live, are one nation and that there is no such nation as "Bosnian Serbs" or any kind of divisions.
In his address after a visit to the Gymnasium and the Secondary School of Mechanical Engineering, Dodik said that it was important for Serbs to preserve their identity by preserving their language, written language, faith, and Slava Patron Saint's Day.
"This is what the Serbian Orthodox Church (SOC), as the people's Church, has been doing – it enabled the Serbian identity to be preserved in catastrophic conditions for our people", Dodik stressed.
Vučić, Dodik and other high ranked Republika Srpska officials along with Serb officials in joint institutions on the BiH level, after a visit to Mrkonjić Grad, went on official visit to Drvar, where they inaugurated a branch of Komercijalna banka and a production facility of the Jumko factory. It is the branch of the factory from the Serbian city of Vranje and Serbian Government donated 500 000 euros for this facility. About 80 citizens from Drvar will be employed in this factory./ibna