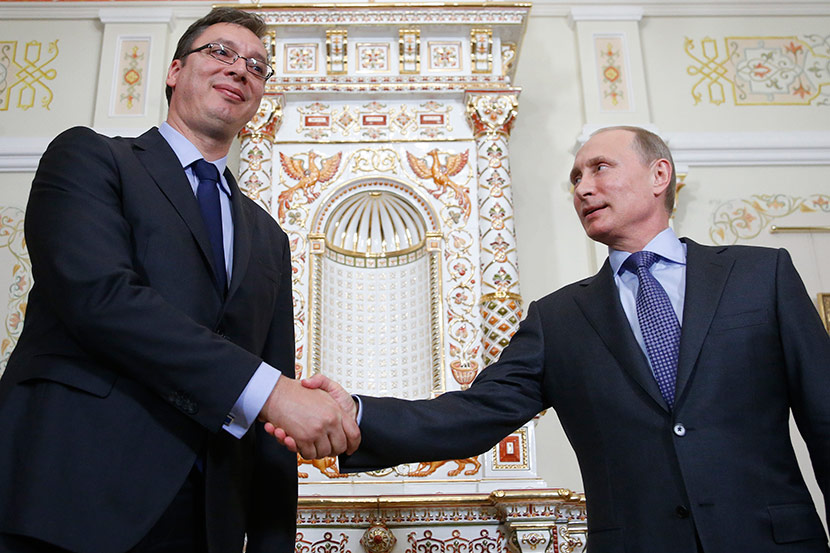 By Milos Mitrovic – Belgrade
It is still not clear whether the Pride Parade in Belgrade will be held on Sunday as it was planned. However, Serbian Prime Minister Aleksandar Vucic said today he would not attend it, but he would abide his "duty to preserve peace and security".
"Considering homosexuals parade, or Pride Parade, those people are becoming the constitutional obligation of the country and my duty as Prime Minister is to guarantee the security for all", Vucic said at the press conference in Belgrade.
When asked if he would come to LGBT manifestation, Vucic answered: "It's out of the question; I will neither lead the parade, nor be in its tail".
Vucic announced a "general security assessment" as the basis for the government's decision about the Pride Parade – whether it would be held or banned. The assessment is expected tomorrow.
"If the parade takes place we would ask people not to provoke incidents. Those who would try to behave otherwise would be very, very, very punished", Vucic underlined.
Premier also stressed his right not to attend the parade.
"I cannot stroll; I have other things to do rather than marching. And if I would not have, I would still not stroll. It's up to me if I would go out with my children or go to Tekija to work. That's my choice", Vucic said. Tekija is a town in the east of Serbia hit with floods last week.
PM also said he would not "adulate" to foreign embassies considering Pride Parade obviously alluding to some diplomats which have announced their attendance to manifestation.
European Union Delegation head Michael Davenport is among them. Earlier this week Davenport said that "Pride Parade is Serbia's chance to send message of tolerance and diversity".
Considering Serbian Orthodox Church's condemnation of LGBT parade organizers, Vucic said he "respects" the position of the Church adding, however, that the government decides on politics of the country in accordance with the Constitution.
"Church has the right to express its positions, but it does not and will not lead the Government of Serbia instead of those who were elected by the citizens".
Putin to attend military parade in Belgrade?
Vucic said he expects that Russian President Vladimir Putin will attend the ceremonies on the occasion of the 70 anniversary of Belgrade's liberation from Nazi occupation on 16 October. "The final confirmation" on Putin's visit is expected next week, he added.
The ceremonies will include the parade of the Serbian Army.
"We are proud of our fight against fascism, we are not going to hide from anyone or be ashamed because we have defeated fascism in Serbia. On the contrary, we are proud of it and we will always be", Vucic emphasized.