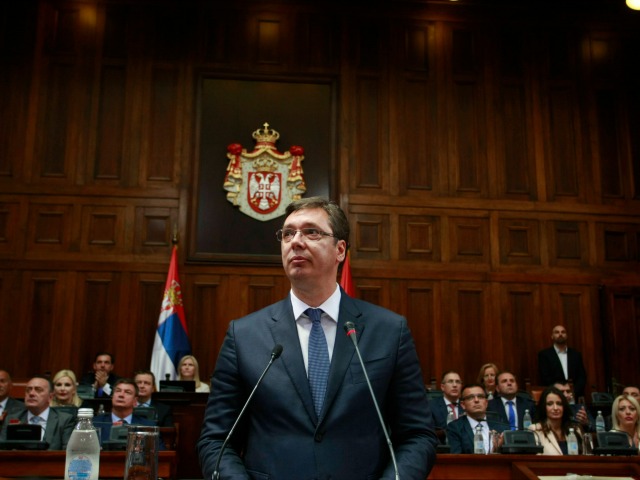 Belgrade, August 24, 2016/Independent Balkan News Agency
By Milos Mitrovic
Serbian prime minister Aleksandar Vucic would not attend the Croatian Forum in Dubrovnik, a government source told Beta news agency today. Vucic made such decision amid tensions with Zagreb end electoral campaign in Croatia.
The row between two countries escalated when Croatia has temporarily blocked the opening of the two chapters in European Union-Serbia accession negotiations demanding from Belgrade to cancel universal jurisdiction of its courts in war crimes cases. Furthermore, Serbia has detained one Croatian national provoking fury in Zagreb.
The historical dispute over Nazi-puppet "Independent State of Croatia", as well as the anniversary of  Croatian military operation "Storm" marred with incidents such was setting Serbian flag on fire and hate speech also created tensions.
"I did not made a final decision yet just because I cannot see what substantial progress we can make, but I am always ready for discussion", Vucic said on Monday when asked whether he would attend regional conference in Dubrovnik which starts tomorrow. In the meantime, Vucic "forbade" his ministers to publicly comment statements that come from Croatia. Zagreb was angry over comments made by foreign minister Ivica Dacic and labor minister Aleksandar Vulin.
Croatian technical prime minister Tihomir Oreskovic earlier suggested that Vucic's attendance at the Croatia forum would be "senseless" because its format has been changed – instead of prime ministers, it would gather foreign ministers of the countries in the region. "We have invited premier Vucic a month and a half ago when our relations were different… We have informed Vucic that we would not have the panel of prime ministers, so I cannot see that his attendance would be practical", Oreskovic said on Tuesday.
Croatian war criminal and leader of a far-right party Branimir Glavas said that Vucic should be arrested if he tries to enter Croatia claiming that Serbian PM had important role in 1990s war in Croatia. The recent decision of the Croatian Supreme Court to cancel the verdict to Glavas was another reason for argument with Serbia.