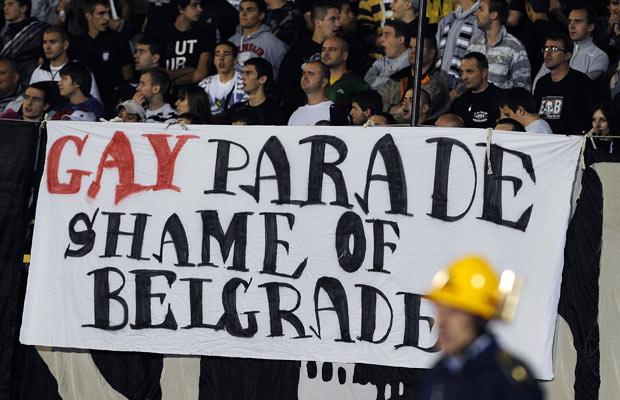 By Milos Mitrovic – Belgrade
After German national D. H. (27), participant of the LGBT conference "Future belongs to us", has been beaten in the street in Belgrade on Saturday, Serbian prime minister Aleksandar Vucic has said that it was "a terrible incident".
"Whatever somebody's reasons to explain the incident are, it was completely senseless, insane and unacceptable", Vucic told Deutsche Welle. The german radio commented that the incident has "shocked Serbia" and that those suspected have been detained.
"We have condemned this – the worst thing that could happen – but we have also stressed that this must not happen in Belgrade and Serbia", Vucic said. According to him, the government has proved it's "serious rebuff" against xenophobia and homophobia. "In weeks to come it will be visible to which extent it (government) is successful in this regard", Vucic added possibly alluding to Pride Parade in Belgrade which has been scheduled for September 28.
Vucic stressed that Serbian police has reacted "as fast as nobody so far did" arresting all assailants – the main one and the two who assisted him. "Belgrade is cosmopolitan city, and Serbia is not just a country which strives to become European Union member: it's also a country that will never support the values of violence and primitivism, jeopardizing the rights and lives of the others", premier said.
It's up to Serbian government to explain to the people that the attack on foreigner, or the attack on someone with a different sexual orientation is shameful, "it's not the value that should be protected", he added. The means that should be used for this cause, according to Vucic, are education and "permanent debate".
When asked about his meeting with German Human Rights Commissioner Christoph Strässer, who also took part in LGBT conference, Vucic said it was "very good", adding that he had explained to his guest that "Serbia is aware of its commitments". He added he takes for serious all remarks on homophobia and xenophobia such as those issued by Amnesty International.
Photo: Football fans protest against Pride Parade in Belgrade in 2009 (by AFP\Getty)