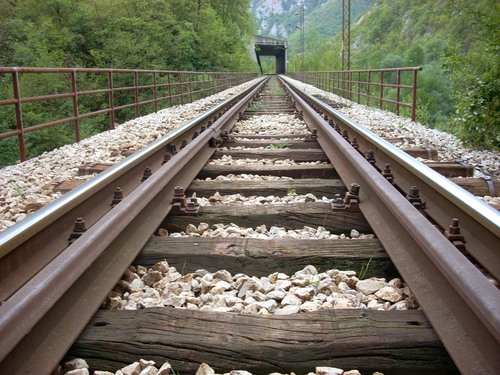 By Milos Mitrovic – Belgrade
Ahead of tomorrow's Western Balkans conference in Berlin, Serbian prime minister Aleksandar Vucic arrived today in German capital and had a meeting with German minister for economic cooperation and development Gerd Mueller. After the meeting Vucic told journalists that Mueller's ministry was "the key address" to talk with and underlined that discussion he had with the German minister was of an "extraordinary importance" for Serbia.
Tomorrow's conference, which will gather German and EU officials as well as the representatives of the Western Balkan countries would focus on economic cooperation in the region, among other issues. Sources from Serbian government told Belgrade's "Danas" daily that Vucic will demand from EU to financially support the constructing 476 kilometers long Belgrade-Bar (Montenegro) railway. The railway, which was constructed in 1975 is now heavily damaged. According to "Danas", Montenegrin prime minister Milo Djukanovic, who will also attend the conference, supported the idea.
Radio Television of Serbia (RTS) reported from Berlin that Vucic and Mueller discussed grants and favorable loans which Germany would provide to Serbia until the end of the year. The total value of this assets would be EUR 140 million. The two officials also discussed projects in energy sector, communal services an agriculture.
Vucic stressed he has asked Mueller for German support for educational projects, especially those focused to young Serbian population and plans for "entrepreneurial spirit" encouraging. Vucic revealed he has praised unemployment reducing in Serbia which was allegedly "falling month by month".
"Nevertheless, the young are still the problem. We are looking for the solutions educational system to be changed in order to prepare young people during their schooling for work", Vucic explained. Later today he will meet World Bank officials.
Western Balkans conference will be attended by German top officials – chancellor Angela Merkel, economy minister Sigmar Gabriel and foreign minister Frank-Walter Steinmeier – as well as the officials of the same ranks from Macedonia, Albania, Kosovo, Serbia, Bosnia, Montenegro and those from the only EU members from the region – Croatia and Slovenia.
European Commission president Jose Manuel Barroso will first have a bilateral meeting with German Chancellor Merkel and then participate in the summit by introductory speech on regional cooperation and the EU dimension. EU Commissioner Stefan Fule will attend the meeting with the ministers of foreign affairs, and European Commission vice president Gunther Oettinger will attend a business meeting.