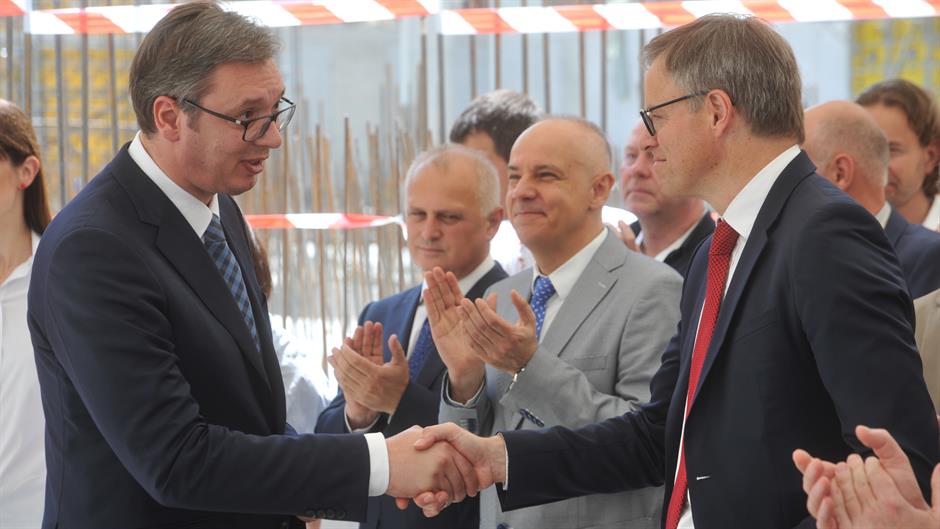 Serbia is thankful to chancellor Angela Merkel for her contribution to the development of the Western Balkans region, president Aleksandar Vucic said at a ceremony to mark the start of the construction of a new German-embassy building in Belgrade.
Vucic praised Merkel for her "responsibility, seriousness and commitment" with regard to this region, and especially for initiating the Berlin Process.
The Berlin Process is an initiative aimed at strengthening the multilateral ties between the Western Balkans and EU member states, and at improving infrastructural and economic development in the region. It was first initiated in 2014. Vucic underlined today that Serbia "wholeheartedly" supports the initiative.
According to the president, the new building of the German embassy, which should be finished by 2020, would be "the witness of the important talks on the future of Serbia in which Germany bears one of the key roles".
Vucic recalled that, in the past, relations between Germany and Serbia have been "dynamic, with ups and downs". The relations are now "improved by mutual understanding and at the highest level in the contemporary history", he added.
Christian Hellbach, the German envoy for South-Eastern Europe, Turkey, and the EFTA states, was also present at the ceremony, as well as Axel Dittmann, the German ambassador in Serbia. Vucic told Hellbach that "in many domains, including the rule of law and economy, some European Union states are at a lower level than Serbia".
At the same time, Serbia should still not be satisfied with the achieved results, Vucic said. "We have to change ourselves, to improve ourselves and the situation in Serbia, to think about our future", he underlined.
Vucic appealed to Berlin "to show respect to Serbia, to hear what Serbia thinks and wants before it (Berlin) makes decisions on Serbia"…. /
IBNA