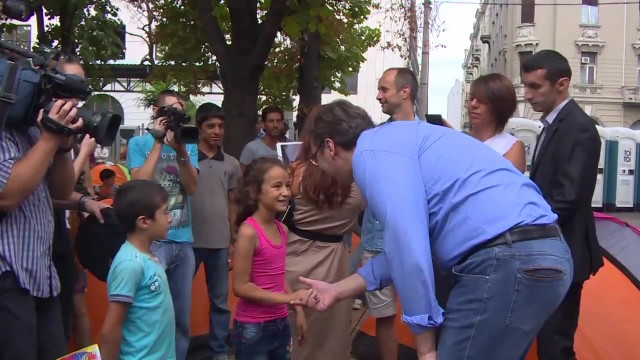 Belgrade, September 4, 2015/ Independent Balkan News Agency
By Milos Mitrovic
Despite the fact that Serbia is not a European Union member state, it is ready to share the burden of the current refugee crisis with the EU, Prime Minister Aleksandar Vucic says. Serbia's plan is to demonstrate a responsible and serious approach, as well as empathy and solidarity with the refugees, Vucic said to CNN. He added his belief that Serbia "is an example in that sense".
Serbia strives to provide medical and other assistance to the refugees and, at the same time, avoids blaming anyone for the current situation, the premier underlined.
In his words, "the situation deteriorates, especially taking into account recent developments and statements that could be heard in Brussels". Serbia would do its best in order to treat refugees fairly and it would continue to provide them with medical assistance and shelter, particularly during the winter", Vucic said.
"Serbia is perhaps the only country that does not blame anybody in the world but rather looks for a comprehensive solution", he stressed. "We are ready to be part of this solution".
Considering the humanitarian crisis in Hungary, where Prime Minister Viktor Orban took an rigid stance towards the refugees, in order to "defend Christianity", Vucic said that Serbia has good relations with Budapest, that it doesn't want to spoil them, but that he cannot be satisfied with the border barrier.
On Thursday, Vucicand Bavarian Minister for European Integration Beate Merkvisited refugee camp in Kanjiza, near Hungarian border. The refugees have asked Vucic if he could provide them blankets to pass the Hungarian barbwire. "This is unthinkable for the 21 century", the PM said.
"We have to oppose this and that is why I insist on a comprehensive solution within the EU. Although we are a candidate country, we are ready to take our part of the burden and share the responsibility".
"There is a time when something should be done in Europe; when you have to show your European face. And this is exactly that time.  I think that we have to show more solidarity, more tolerance, good will and more human approach which lacked in the past", Vucic concluded.