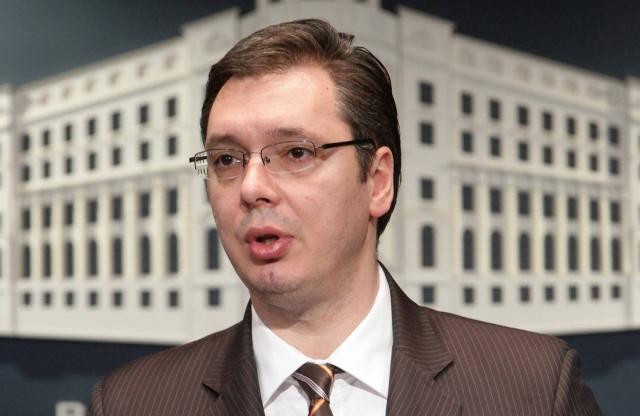 By Milos Mitrovic – Belgrade
Serbian government will provide infrastructure projects including roads, water supply and sanitation constructing, to serve as an "additional incentive" for investors, prime minister Aleksandar Vucic told National Television (RTS).
On Monday, Vucic held separate meetings with bankers, foreign investors, representatives of construction sector and national investors. He emphasized that infrastructure projects would be managed by the state in order for reassurance to be provided for the investors. "This will encourage foreign investors and I believe such an suggestion will be accepted by all. We have listened and learned a lot. They have listend to us too", Vucic said alluding to his discussions with business people and bankers.
According to prime minister, the "exchange of ideas" was very useful. He announced that similar meetings will be held every two or three months.
"We've heard many proposals and I think we have accepted many of them", Vucic added. However, Vucic stressed that Serbian civil engineering "is in very bad condition and building construction does not exist. I am ashamed to discuss many things regarding the roads constructing and infrastructure".
Vucic specified that relations between the state and constructing companies are unsatisfactory and "everybody will have to change for the situation to be improved".
Serbian media underlined that Vucic's Monday meeting was also attended by Forbes list millionaire Miroslav Miskovic, who defends himself in the court over the allegations regarding the fraudulent privatization of road constructing companies. Miskovic, Delta Holding owner, was arrested in 2012 and spent several months in prison, which put him in the focus of Vucic's anti-corruption campaign.
Vucic explained that Miskovic attended the meeting "because his two companies are among first 200 firms which are paying taxes". "This was the only criteria for inviting the businessmen (on discussions)", Vucic specified. "I've heard some of his ideas for agricultural sector and I consider them quite meaningful".
Prime minister said that debts dating from 2011 and 2012 would be returned by amending the budget. Vucic admitted this would be "stroke on budget", but stressed "it's important to inject 1,2 billion EUR in economy".
"Most of the money will be provided for small and medium enterprises. This will be appropriate short term measure for the economy, but long term measures remain to be discussed", Vucic explained.
Today, Vucic is in the official visit to Sarajevo, which is praised by Serbian Wester partners as a contribution for regional stability enhancing. He confirmed that German chancellor Angela Merkel invited him to visit Berlin.
"I think this is the first time after so many years that somebody from Serbia is officially invited to a bilateral meeting with a German chancellor".