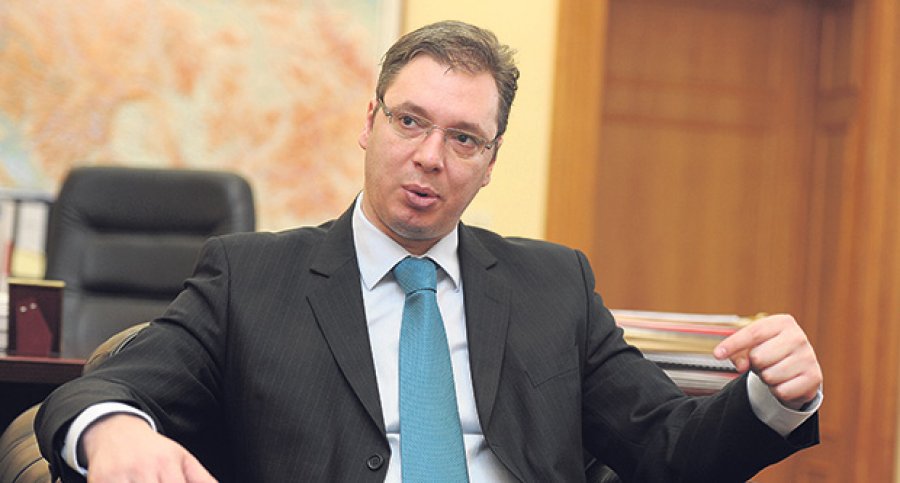 By Milos Mitrovic – Belgrade
"Politico-criminal-tycoon lobbies in Serbia have became aware that they cannot buy whatever they want anymore; Serbia is not frivolous and irresponsible state, as it used to be" Serbian Deputy Prime Minister Aleksandar Vucic said. Vucic announced "sweat, tears and problems" with regard to the recovery of economy "which is necessary  for Serbia to survive". Serbian path towards the EU would be accelerated, he said.
"Our objective is Serbia to enter European Union until 2020. We might succeed even earlier, but 2020. should be the last moment and I believe we are capable to reach this goal", Vucic told Serbian Broadcasting Corporation (RTS).
Vucic, which leads anti-corruption campaign, said that Serbia has lost 85 billion dinars (EUR 738.4 million) in 17 fraudulent privatization and embezzlement cases. He sad that 180 indictments had been issued and one case ended by non-appealing judgment so far. All 24 fraudulent privatization cases would be resolved by the end of the year, as it had been requested by European Union, Vucic reiterated.
Serbian Deputy PM announced that football clubs Red Star and Partizan would be privatized given the fact that they cannot operate adequately otherwise. "Serbia is spending millions of euros on those clubs, but it can earn" by selling them.
With regard to the recent government reshuffle, Vucic said that the cabinet of Prime Minister Ivica Dacic "has the opportunity to be successful". "It would not be fair if I would say that Daθiζ was making mistakes in both foreign and internal politics in the last 12 months; we have worked together concerning all major issues".
Vucic`s Serbian Progressive Party (SNS) won the 2012 general elections, but Dacic`s Socialist Party of Serbia (SPS) took the PM position as it was stipulated in the coalition agreement. All the polls suggest that SNS is the highest ranking party in Serbia. Aleksandar Vucic is the most popular politician as well.
Vucic said that he has recently asked sheik Mohammed bin Zayed bin Sultan Al Nahyan of UAE to "grant Serbia two or three billions USD with the lowest possible interest rate". The loan should be payed off in 20 or 30 years.
"That would be a gift for our country. We would pay off the most pressing loans with that money. At the same time, we would reduce the public debt. Therefore, I believe that the loan from UAE would be supported by International Monetary Fund", Vucic explained adding that "the rest of the money would be injected into economy".