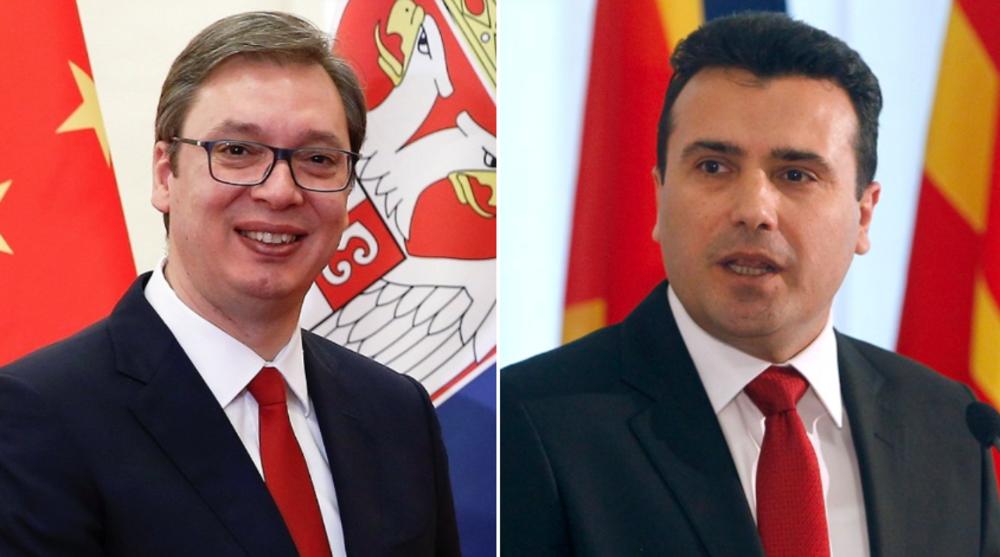 After Serbia has practically evacuated all the stuff from its embassy in Skopje, and Belgrade accused its neighboring country for "offensive intelligence attacks", top politicians of the two states suddenly declared "peace" today.
Namely, Serbian president Aleksandar Vucic and FYROM's prime minister Zoran Zaev have acknowledged that they had "long and opened" telephone conversation which has resulted with "agreement in five points". The first one stipulates that two sides would resolve "possible disagreements" through the dialogue. This new development was confirmed by Vucic's cabinet.
The two officials have also agreed that they would protect "the rights and the interests of consular and diplomatic representations in their territories". This was stated in the joint press release of Vucic and Zaev.
Serbian head of state and FYROM's premier have promised that they would "intensify mutual communication at the highest level".
Serbia and FYROM would support each other in their respective paths towards the European Union; the two sides would also strengthen good-neighboring relations and, thus, contribute to the stability of the whole region.
Vucic and Zaev have announced that both countries would together strive for preserving and improving friendly relations "between the citizens of Serbia and Macedonia as well as invest even bigger efforts in improving economic relations and increasing the bilateral trade exchange", according to the statement.
As early as on Tuesday president Vucic claimed that FYROM has taken certain "unfriendly" actions against Serbia, while foreign minister Ivica Dacic has reiterated his idea that Serbia should change its stance on recognition southern neighbor under its constitutional name. Back in 1990s Serbia recognized it as "Republic of Macedonia". Now, Dacic suggests that Serbia should follow the example of the most of EU members and call it "Former Yugoslav Republic of Macedonia".
Earlier this week the rift between two sides escalated amid reports that FYROM would support, or even sponsor Kosovo's plan to become a UNESCO member./ΙΒΝΑ