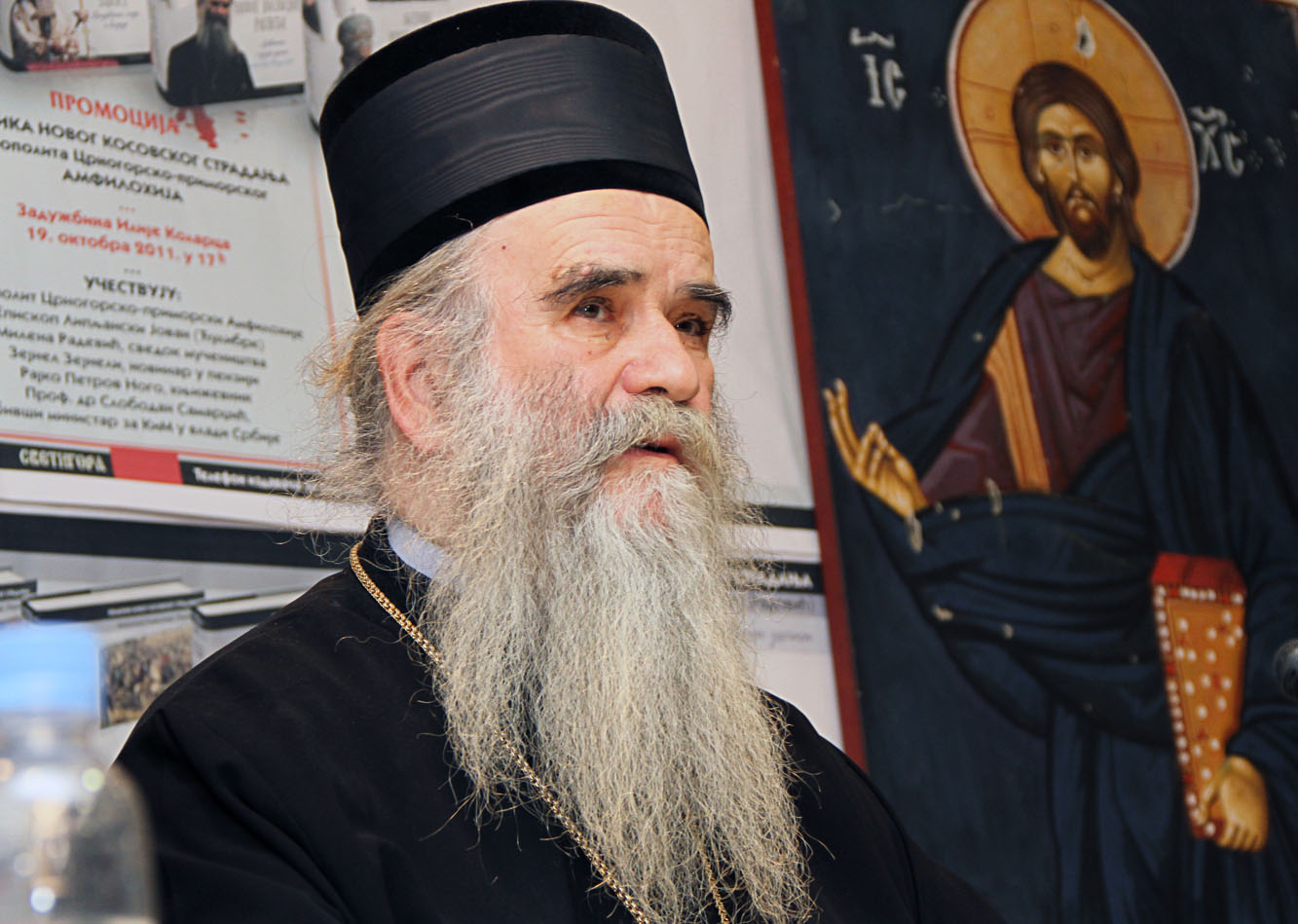 A Serbian Orthodox Church (SPC) bishop has accused Aleksandar Vucic for "betrayal", provoking harsh reactions from president's close associates; Vucic himself has announced that he would respond on "that and other accusations against him" later this month.
Amfilohije, the Metropolitan bishop of Montenegro and the Littoral, has expressed concern that Vucic's policy leads to the "betrayal of Serbia and Kosovo", according to media in Montenegro.
Nikola Selakovic, Vucic's secretary general said today, that the president has adopted his own approach with regards to Bishop Amfilohije. "Serbian president Aleksandar Vucic will not conduct the dodging politics towards Amfilohije unlike his (Vucic's) predecessors", Selakovic told Radio-Television of Serbia (RTS).
Selakovic suggested that the approaches of the former presidents have caused (the) depopulation of the ethnic Serbs in Kosovo and Metohija, claiming that Vucic "will continue his policy of increasing the number of Serbs (in Kosovo)".
Bishop Amfilohije has "waded into the mud of Serbian opposition politics", said Marko Djuric, head of the government's Office for Kosovo and Metohija. He said that the bishop has left his engagement with the church issues "long time ago" – and instead he got involved in politics.
"I have not been in any conflict with Vucic. He was the first Serbian president to attend the Holy Assembly (of the SPC)… But now I'm afraid that his policy leads to treason of Serbia and Kosovo; he has changed", Bishop Amfilohije told Montenegrin Novi TV on January 7.
The Bishop explained that he has initiated the ongoing "Appeal for the defence of Kosovo and Metohija" due to "distrust" in the government, and Vucic's "games" with the province.
When asked to comment on the president's move to have consultations on the Kosovo issue with Serbian intellectuals, Bishop Amfilohije said that Vucic has tried to reduce his own responsibility.
Selakovic said that the Bishop's statement "can be analysed for hours", adding that, "I interpret his statement as sorcery which has nothing to do with the Orthodox Christians". Vucic's aides, (Selakovic included) have interpreted some of Amfilohije's actions and statements, as if the bishop had previously held a mass, saying prayers for deceased Vucic.
"With this statement, Bishop Amfilohije has left his church mission and became a politician", Marko Djuric told Pink television.
Zorana Mihajlovic, vice prime minister, reacted by saying that "Bishop Amfilohije should not divide people on patriots and traitors"; instead of it, "everybody should discuss the issue of Kosovo in order to find the best solution", she stated in a press release.
Vucic has announced that he would respond to Bishop Amfilohije through a TV interview, on January 14…/IBNA
Photo: spc.rs