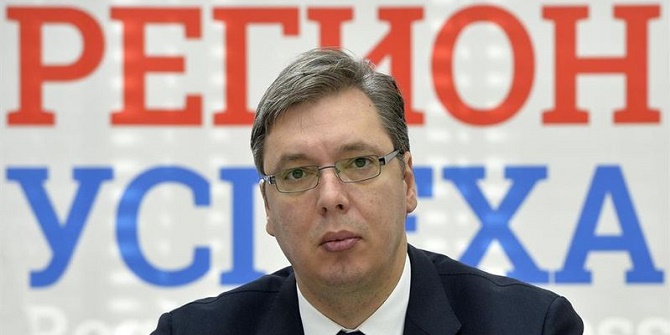 Aleksandar Vucic, president of Serbia and Serbian Progressive Party (SNS) leader, has allegedly decided to call early general elections. According to pro-government tabloid Alo!, elections will be organized on March 31. Vucic has reportedly made this decision after meeting with top SNS officials.
The tabloid did not specify when the alleged meeting was held.
Both speculations and the statements of the officials on the possibility of calling for early elections have been intensified after protests in Belgrade erupted in mid-December. The civic demonstrations started after Borko Stefanovic alongside two opposition activists has been beaten.
Stefanovic is the leader of Serbian Left, which is the member of the opposition coalition Alliance for Serbia (SZS). The protests which are being hold every Saturday since early December are organized by a group of citizens, while SZS allegedly provides only logistic assistance.
The next protest is scheduled for Saturday, January 5.
In the interview which was published today, Vucic reiterated that he would not "succumb before the pressure" and that he was ready to call for elections.
"What is more democratic and more beautiful? What would you like", he told to the website espresso.rs. "To intrude, kill and forcefully come to power because you cannot win the elections? This is not possible anymore", he went on repeating his usual accusations against the opposition.
Vucic has again expressed his doubts with regard to the number of people who protest. At the same time, he said he was ready to call for elections regardless of the number of protesters.
When asked whether the protest that is to be organized on January 15 would be banned, because Vladimir Putin would visit Serbia next day, Vucic answered negatively.
"Why should it be banned? You mean because of the number of protestors?", Vucic asked, adding that "in Serbia nothing has ever been banned" and that people should march freely./IBNA