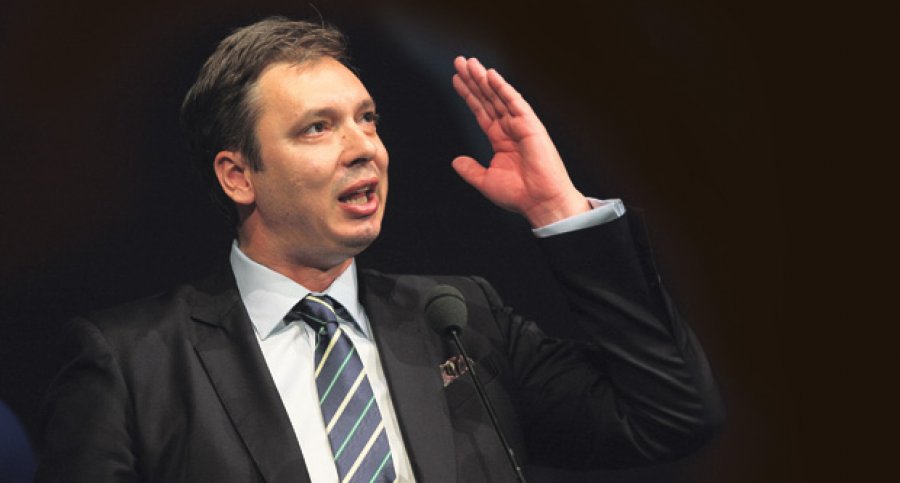 By Milos Mitrovic – Belgrade
The incident that has provoked violence during the football match between Serbia and Albania "has been an organised action intended to jeopardize stability in Serbia and the whole region", Serbian Prime Minister Aleksandar Vucic said today.
"The intention of Albanian extremists was to depict Serbia as a country which is intolerant towards the others and to humiliate all its citizens", Vucic said in the interview for "Vecernje novosti" daily.
A drone carrying the Albanian flag and the map of the "Greater Albania" which has appeared above the pitch during the match on Tuesday evening has caused fight between players. Serbian fans have subsequently invaded the pitch and European Championship qualifier match has been suspended.
According to Serbian officials, Olsi Rama, brother of Albanian Prime Minister Edi Rama was controlling the drone. However, he dismissed such claims and PM Rama who is to come to Belgrade next week in landmark visit, first of an Albanian premier since 1946, stated on Twitter that "Serbia has made a bad impression".
"They (Albanian extremists) wanted to trample on our pride, but we have defended our dignity", Vucic said adding that "to the gang of self-styled Albanian officials we have showed the difference between them and us". "The state will take all legal measures to punish the perpetrators", Vucic added.
He also said he waits for a "clear position from Brussels". "I am waiting for the reaction of the European Union, whose representatives I have warned three hours before the match that Albanians were planning provocations and serious episodes".
Earlier today, Serbian Foreign Minister Ivica Dacic said that EU diplomats have been insisting Olsi Rama to attend the match.
Maja Kocijancic, spokesperson of EU High Commissioner for Foreign Policy, categorically dismissed the claims about EU interference in incidents. At the same time she praised the acting of Serbian police during the match.
"I hope that Prime Minister Rama will visit Belgrade", German ambassador to Serbia Heinz Wilhelm said today, adding that the "cancellation of the visit would represent quite an unfortunate development".