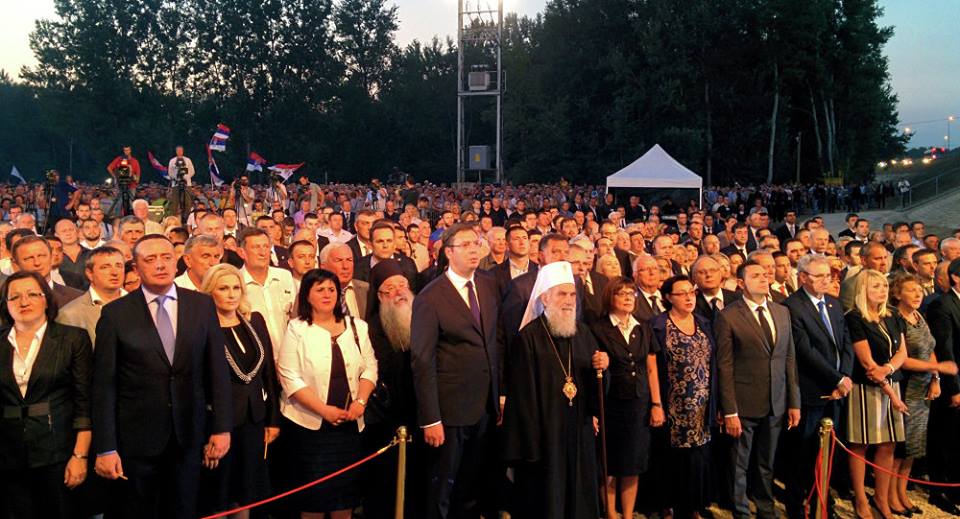 Belgrade, August 5, 2016/ Independent Balkan News Agency
By Milos Mitrovic
"The guilt does not belong to you at all, it belongs to different policies, which were false and bad, which have allowed something that may freely be called final solution in your case", Serbian prime minister Aleksandar Vucic said at the commemoration dedicated to the victims of military operation 'Storm' which resulted with repulsing of 250,000 Serbs from Croatia in August of 1995.
Speaking at the rally in Busije near Belgrade late on Thursday, before some 20,000 people, mostly those who fled from Croatia and their descendants, Vucic said:
"You were punished in most severe manner, without having right on defense and justice, just because somebody thought he had right to decide who may and who may not live in his country, even in case when that land belonged to you for centuries, not to him".
"And you don't have a single reason to feel ashamed, because they have no shame", Vucic said referring to recent manifestations of nationalism in Croatia, including the installment of a monument to assassin of Yugoslav ambassador in Sweden in 1971.
"Their cross would always be warped, it would be swastika", Serbian premier went on in his emotional speech. Vucic's ancestors were killed by Croatian Nazi collaborators in 1940s.
"But I will not allow anyone to blame all Croats for your calvary… Everything we are demanding … is if someone would finally feel ashamed because of Serbian blood on his hands. Because of ethnic cleansing in 1995 … slaughtering from 1941 to 1945 and the fact that, during an average life, the number of Serbs in Croatia was ten times reduced", PM said.
He finished his speech by saying: "Long live Republic of Srpska! Long live Serbia!"
"We have to do everything in order to make stronger our people and our two states – Republic of Srpska and Serbia", Republic of Srpska president Milorad Dodik said.
"When we thought we have resolved our recent problems with Croats, they again started to glorify fascists. We thought that they have suppressed that after joining European Union, but they did not. They are hailing their war criminals", Dodik underlined adding that EU does not react.
Serbian patriarch Irinej said that "silence" of the Roman-catholic Church is also matter of concern. Patriarch pointed out:"Whether they like it or not, Serbs and Croats are the closest to each other and therefore they are obliged to build peace and friendship, to build the future together".