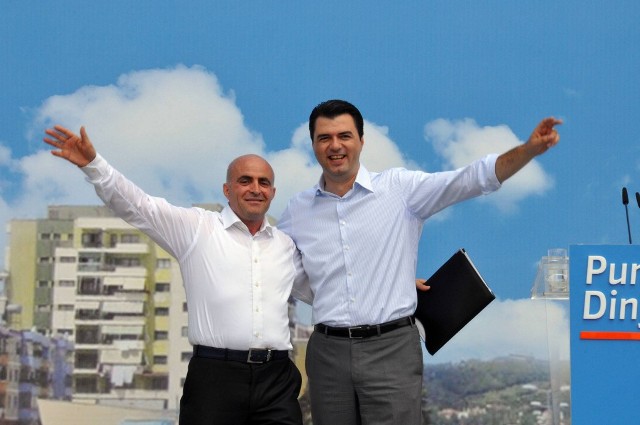 Tirana, 15 June 2015/Independent Balkan News Agency
By Edison Kurani
What up until yesterday was a significant perception that the left has bought and sold votes, is turning into the main instrument of the majority against opposition.
In the municipality of Vora, near Tirana, which hosts the biggest industrial and commercial area in the country, the left wing has denounced what it considers as an effort to buy the votes of Albanians on June 21.
These accusations have been launched by the Socialist Movement for Integration, the political party which has been most alleged for this phenomenon in the recent years.
According to these accusations, votes are being sold in exchange of money and goods.
In this wave of political accusations, State Police has intervened. Police pressed charges against mayor of Vlora, Fiqiri Ismaili, accusing him of buying votes. According to police, in the offices of his company in Vora, Ismaili (on the photo with the head of DP, Basha), has offered 10 thousand ALL (70 Euros) to two residents of the area, in order for them to vote for him in the June 21 local government elections.
Based on official information, it's not yet known how police identified these two citizens and what's the evidence that proves that they took money in order to vote Ismaili.
Police statement was immediately released on the media and the majority rushed to attack DP of buying votes. The mayor who is running for a fourth term in office, said everything was a lie. Heads of DP also considered this a police scenario with the involvement of SMI.
Flour and votes
General Secretary of the Socialist Movement for Integration, Luan Rama, denounces what he calls efforts "to rig and alienate the votes in the municipality of Vora, by giving flour in exchange of the vote".
Opposition candidate for the municipality of Vora is current mayor Fiqiri Ismaili. He is known as a powerful businessman and owner of a large agricultural company.
Rama accuses him of "abusive contracts": "Tens of citizens of Vora have arrived at the SMI's electoral offices in the municipality of Vora and have denounced tens of contracts, which prove that there have been attempts for purchase and sale of votes".
SMI official says that there are 580 citizens who have been involved in this "scandal". According to him, a group of voters, who are not voters and who do not live in Vora, but in different cities of the country, have been registered as voters in Vora.
For Mr. Rama, this is only the tip of iceberg. "cars, vans and lorries filled with flour, have been caught distributing flour for the residents of Vora", Mr. Rama says.
Berisha: Tactics of the secret police
Former PM and opposition MP, Sali Berisha says that Ismaili is being unjustly attacked. "Rama and Meta are orchestrating old tactics of the time of secret police", Berisha says referring to police charges which is based on the claims of two residents.
"They threaten and pres charges against the DP candidate, one of the most honest and most capable mayors in the country, Fiqiri Ismaili", Berisha says.
The former democrat leader also mentions the fact that the ministry of Agriculture, controlled by SMI, conducted an operation in Ismaili's businesses a few weeks ago and blocked production on suspicion that the flour had a high level of aflatoxin. "Like gangsters, they block the flour produced in his plant, although it has been proven that it enjoys the best standards", says former head of the government. Berisha also called on the General Prosecution "to launch an immediate investigation against those who organized this scenario."
The citizens who became subject of this media story speak
One of the two people who has been involved in the inquest for the sale of vote, says that he feels scared. He says that the mayor promised him a job. "Ismaili promised me that he would find me a job, as it's been six months that I am unemployed and we're four on my family", says the citizen who denounced that he was given 10 thousand ALL. "I went to the police of my own will, but I fear that I may have problems afterward", he adds.
Opposition: Disgusting accusations
The DP's reaction is strong. This party considers this as a discussing orchestration and demands an official investigation. Keltis Kruja MP, former prefect of Tirana, suggests: "The truth is that people of Vora are seeing on a daily basis that Ilir Meta is applying the standards of a criminal organization along with his state entourage and with other people who have criminal records. All of this to satisfy Ilir Meta's corruptive interests, who wants at any condition to win the municipality of Vora",
Letters by both sides
Astrit Patozi, former head of the parliamentary group when the DP was chaired by Berisha, is known today as an MP who is against the current leader Bsaha. Patozi has sent an open letter to the heads of the state and diplomatic centers accredited to Albania, in relation to the incidents recently occurred in the Municipality of Vora. He says that there's a lot of evidence that "Meta is the head of an almost military operation, led by the state administration of SMI, which has abandoned the offices in Tirana and has been displaced in Vora". According to Patozi, pressure on the voters of opposition vary from physical attacks to intimidation through the use of weapons. He warns that "it has been decided for a wave of terror to be launched and for DP supporters to be arrested, especially in the last days of the campaign".
Patozi's letter was followed by another letter of the General Secretary of SMI, Luan Rama. He sent this letter to the same officials, which DP is challenging and is calling for all cases that are reported, to be investigated. Rama accuses General Prosecutor Adriatic Llalla of being passive.
So far, Llalla has not taken an official stance.
Why all of this "war" over Vora
Up until yesterday, Vora has never been a great objective for politics. It was a small suburban municipality, around 15 km away from the capital.
Vora was located on one side of the motorway and attention for it has never been greater than today.
But what has happened?
With the new territorial division, municipality of Vora is expanded. It receives large parts of the highway, numerous industrial areas,  the only civil airport, areas that extend up to the coast of Durres, etc. The current territory of Vora also hosts 70% of all large businesses in the country.
With all these potentials, Vora can be considered today as the richest municipality in Albania after Tirana.
Based on these facts, parties have focused their battle on Vora. The structures of SMI, which has its candidate there, Luan Sallaku and the structures of opposition, who is running for another term in office, has become tough and around 30 thousand residents of this territory, face a big dilemma; who shall they trust with their local governance in the next four years?/ibna/