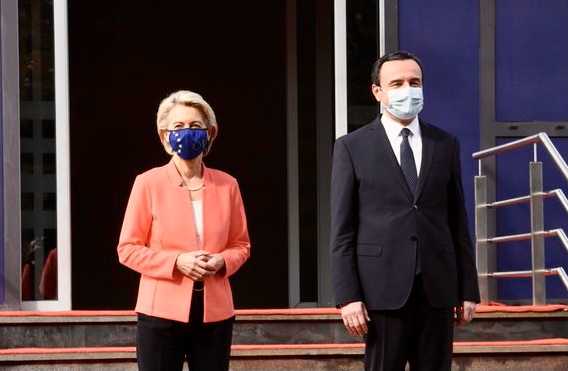 The President of the European Commission, Ursula von der Leyen, continuing her tour of the Western Balkan countries, was in Pristina today where she met with Prime Minister Albin Kurti.
During the joint interview with Prime Minister Albin Kurti, Leyen was questioned and spoke about the situation on Kosovo's border with Serbia in Jarinje and Brnjak, stressing the need to defuse the situation.
She said that negotiators from Kosovo and Serbia are currently in Brussels to reach a compromise to overcome this.
"Firstly, the issues we see at the moment on the border. I am thinking of talking about that first. While we are here, the meeting between the negotiators is taking place in Brussels. The negotiators hopefully have a strong mandate to negotiate. I am deeply convinced that the situation must be defused and the dialogue must continue. I come from a country and the EU that knows what that means," he said.
She further moved on to the issue of the accession of the Western Balkan countries to the European Union, welcoming the eagerness of the citizens of Kosovo in this regard.
"I know there is impatience to move forward. Let's take this and put it into a working structure for the future of the region. My experience is that if you change effectively, you are getting closer to the dream. I am a strong supporter of enlargement," said the European Commission President.
She spoke further about the economy, outlining a plan to create new jobs that pay well.
"You yourself told me that Kosovo is a country of entrepreneurs and people with Albanian businessmen, so you should benefit here by creating well-paid jobs. This is the economic development plan," Ursula Von der Leyen said.
"We want a future where Kosovo and the whole Balkans are part of the EU … That is what we all want. I think we owe it to the children we saw today," she said.
On vaccination, he said that "we want to accelerate vaccination in Kosovo and achieve long-term sustainable economic recovery."
Prime Minister Albin Kurti, for his part, spoke about the government's decision on license plates, and accused Serbia of receiving donations from the EU, but continuing to be militarized by Russia and China.
He said that in Kosovo they have implemented an old agreement on license plates, but that Serbia has responded strongly.
"At the border we have not taken any new decision except to implement an old agreement. Unfortunately, Serbia responded forcefully by gathering military forces and weapons such as Russian tanks and fighter jets," Kurti said.
"Unfortunately, we are in a situation where Serbia is receiving donations from the EU and although it receives these donations without applying values, it should be democratized and not militarized by Russia and China," Kurti said.
He also said that the attacks on Zubin Potok are a consequence of Vucic's provocative statements.
"I asked for the attacks in Zubin Potok and Zvecan to be condemned, as these attacks were carried out after the provocative statements of the Serbian president and after the military demonstrations on the border with Kosovo," he said./ibna