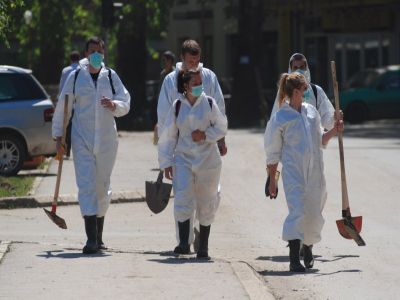 Volunteer Actions
By Liljana Meshaj – Sarajevo
Floods in B&H took many valuable items from the people turning them into waste and garbage. Everything that was touched by the water floods had to be thrown away and removed. The elimination of waste and garbage caused by floods meant a lot of work to be done that the authorities responsible could not cover.
Since the first day of the floods in B&H, apart from the international help, B&H institutions assistance, volunteers were among the main forces to assist the situation. Mainly students were the ones committed to volunteering. They were going from one city to another to help delivering assistance and cleaning. They participated in cleaning the environment, houses and other facilities.
Moreover, the story of volunteers engaged to help through Red Cross, other relevant organizations or independently organized reveals other sides of these humanitarian actions and people. From their stories many volunteers were satisfied that they managed to help in assisting the situation returning a smile on the faces of many people. The people receiving the help showed their gratitude at the most part. However, many of volunteers were disappointed due to several reasons.
Many humanitarian packages were not distributed to people in need. A student from Banja Luka, Ljubica Kaurin said for portal Buka that while she was volunteering, assigned to coordinate packages donated by citizens, she was very disappointed to see that many packages were kept aside and not intended to go to people that were in need. She said that she was happy to see that there is human solidarity shown by donating but on the other hand was disappointed with the low moral of many people that tend to get rich by taking advantage dramatic situations.
Other volunteers stated for Buka how many people affected by floods were treating them not in a polite manner, considering them obliged to help and ordering them to do stuff as it was their job to do so.
What can be said for certain, however, is that natural disasters bring out the good and bad sides in people. What has been shown so far is the solidarity of the people to help each other, but on the other a less sensitive side is revealed, such as humanitarian help not going were is suppose to and the behaviour of people that goes beyond the politeness and gratitude for being helped.
Nevertheless, today the government of FB&H received the information on the volunteer cleaning action in the areas affected by floods, with the special emphasis in participation of students.  15000 students got involved in a three day action, which cleaned up areas affected by floods in Zenica –Doboj Canton, and in the area of Maglaj. Many other volunteers operated in other cities as well based on the need. The Federal government of B&H expressed the gratitude to all the students and volunteers who got engaged in cleaning actions.
The volunteering actions of delivering assistance and cleaning continue and young people are still interested to get engaged in them, but what is important is to not misuse the efforts and trust of the volunteers.