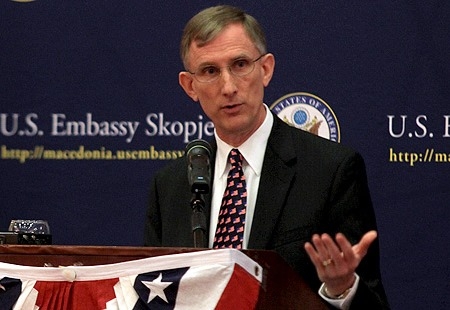 Skopje, July 4, 2013
American ambassador to Skopje, Paul Volers declared that during its two decades of independence, FYR Macedonia has not had and will not have a bigger friend than the USA.
Last evening, the American embassy in Skopje hosted a ceremony to celebrate July 4-America's Independence Day.
Present in this event were representatives of institutions, heads of political parties and different public personalities.
"We have been and we will be your biggest ally", declared Volers on the occasion of the 237th anniversary of independence. He said that he's proud that the citizens of FYROM want to live in a democratic state and want to work in order for their country to progress.
"During the years that I've served in your marvelous country, I've had the chance to see all its regions. You have a beautiful nature, you have excellent universities such as the University of Shtul and "Saint Cyril and Methodius", you have excellent engineers and excellent farmers. You must be proud of what you have", said the American ambassador.
According to Volers, USA has supported FYR Macedonia since 1991, when it gained independence.
"We helped you to overcome the 1993 embargo, we were with you in 1995, but also in 2001 when an end was put to the crisis. We have recognized you with the constitutional name in 2004, while a year later, president George Bush did a lot in the NATO Summit in Bucharest. Don't forget that USA is the biggest friend of yours", declared ambassador Volers. /ibna/