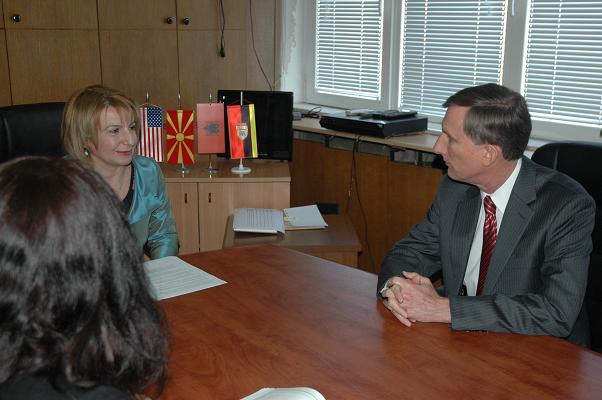 Tetovo, April 25, 2013, by Naser Pajaziti-The US ambassador in FYRO Macedonia, Paul Volers had a visit today in the commune of Tetovo. During this visit, ambassador Volers had a meeting with the newly elected mayor of Tetovo and stressed that the embassy will be a serious partner in the cooperation with this commune.
"I'd like to thank mayor Arifi which took the time to talk to me over the challenges of this commune and the plans for the future of Tetovo. The hardest public function for a politician is that of the mayor, because mayors are closer to the citizens and are in a good position to put in practice the true significance of the notion of democracy. Functional democracy on a local level means functional democracy on a central level. We will continue to be serious partners of the commune of Tetovo and we will support and monitor its development", said ambassador Volers.
"It's a great honor to have ambassador Volers as a guest here in our commune to talk over different issues of mutual interest and for the opportunities of the development of the commune of Tetovo through the support that the USA has given to the local authorities through the programs for the development of communes", said Arifi.
The mayor of Tetovo and the US ambassador discussed on the challenges that the town of Tetovo faces and the activities that the administration will undertake in order to accelerate the dynamic of the infrastructural, economic and cultural development of town of Tetovo and the intensification of cooperation with the aim of accelerating the projects and the general goals. /ibna/