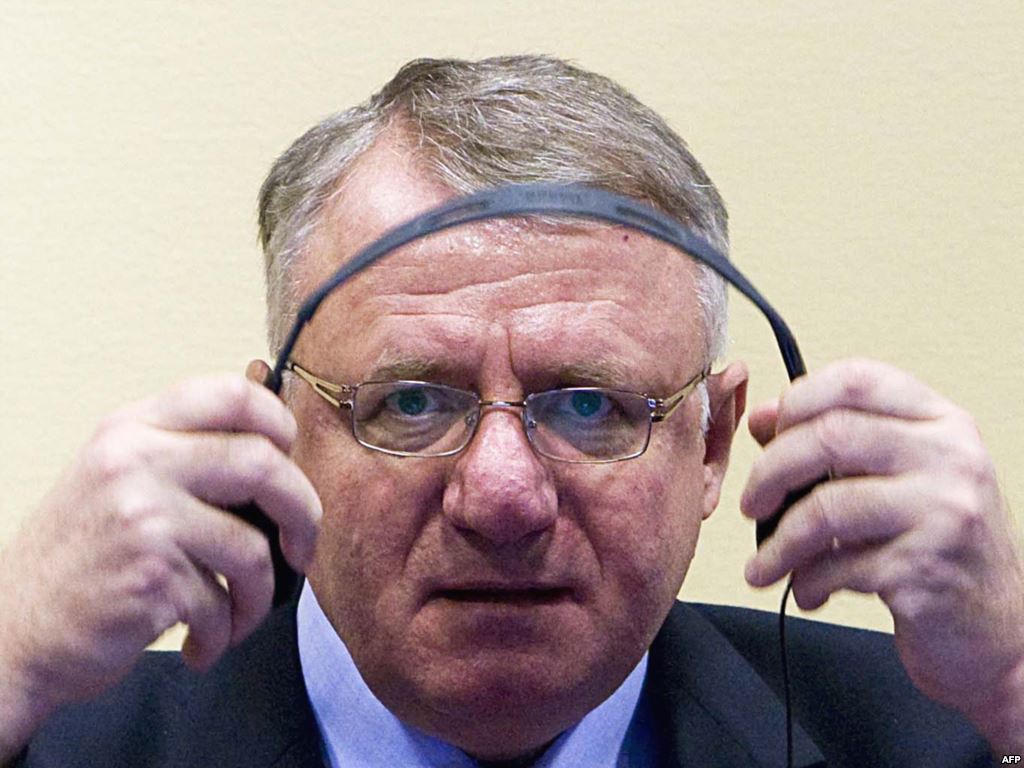 By Milos Mitrovic – Belgrade
Vojislav Seselj, Serbian Radical Party (SRS) leader, is to be temporary released from United Nations tribunal's detention center after almost 12 years awaiting the verdict for alleged war crimes. The Hague based International Criminal Tribunal for the former Yugoslavia (ICTY) released Seselj without any preconditions, SRS deputy leader Nemanja Sarovic said.
He added that Seselj could arrive in Belgrade today.
On Thursday evening Sarovic told Belgrade media that Seselj has confirmed him tribunal's decision in telephone conversation. "Seselj told us there were no any preconditions for his release. He believes that court decision means that the demands he had set earlier are now accepted", Sarovic said adding that Seselj has sounded calm rather than euphoric.
Seselj allegedly has been informed that ICTY hopes he would come back at verdict presenting.
Earlier on Thursday ICTY stated that decision on Seselj's temporary release has been made due to "humanitarian reasons" obviously alluding to recent physicians' findings that SRS leader has a liver cancer. ICTY explained that the "permission of the indicted" (Seselj) for the release "was not necessary considering his health condition".
In July ICTY has allowed the release under conditions that Seselj would not influence on witnesses in the process against him and that he would stay in house arrest in Belgrade. Seselj refused this as well as the guarantees of Serbian Government which he considers to be "Quisling".
Seselj voluntarily surrendered to the ICTY in February 2003. He has been in detention for almost 12 years, but no verdict on the charges has been delivered so far, despite the trial was ended in March 2012.
Vojislav Seselj is controversial figure. Before entering politics in 1990, he had spent several years in prison due to opposing Yugoslav authoritarian communist system. Although he was mostly in opposition in the era of Slobodan Milošević, Seselj was among the symbols of that period; extreme nationalistic rhetoric, unscrupulous clashes with political foes and recruiting Serbian volunteers for the wars in the former Yugoslavia once made him extremely popular in Serbia and among the Serbs in the region which supported him.
The acting Serbian Prime Minister Aleksandar Vucic and President TomislavNikolic were the closest Seselj's allies in their nationalistic period. When the two have left SRS and founded their own Progressive Party in 2008, SRS popularity started to drop which eventually led to its exit from parliament in 2012.
On the eve of Tribunal's release decision, Serbian media claimed that Seselj comes back for vengeance rather than medical treatment.
SRS vice president Milorad Mircic said Seselj will hold the rally in Belgrade as early as next week. Seselj accuses Vucic and Nikolic for national treason. He is opposed to EU and NATO and strives for creating "Greater Serbia" which would integrate Serbia, Montenegro, Bosnia-Herzegovina, large parts of Croatia and possibly FYROM.