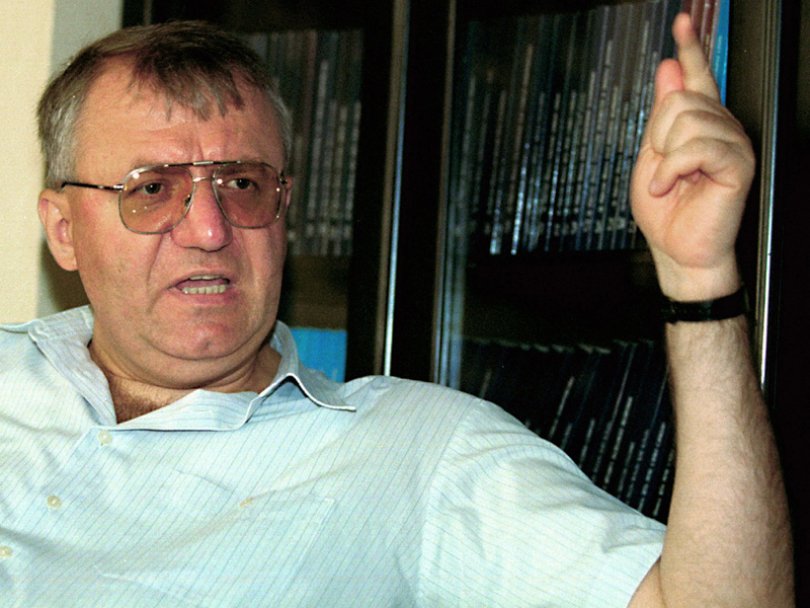 IBNA/ INTERVIEW: Zoran Krasić, Serbian Radical Party vice-president
By Miloš Mitrović – Belgrade
Vojislav Šešelj, Serbian Radical Party (SRS) leader, is a controversial figure. Before he entered politics in 1990, he had already spent several years in prison due to opposing Yugoslav one-party communist system. In March, it had been 10 years since Šešelj entered Detention Center of the International Crime Tribunal for the Former Yugoslavia (ICTY) in The Hague.
Although he was mostly in opposition during the autocratic regime of Slobodan Milošević, Šešelj was among the symbols of that period; extreme nationalistic rhetoric, unscrupulous clashes with political foes and recruiting Serbian volunteers for the wars in the former Yugoslavia once made him extremely popular in Serbia and among the Serbs in the region which supported him. At the same time he was scarecrow for his opponents in Serbia and for the people who fought against the Serb military forces, such as in Croatia and Bosnia.
After he had been indicted for war crimes in Croatia, Bosnia and Vojvodina, Šešelj voluntarily surrendered to ICTY in 2003. Since then, he had been in the Hague detention. Despite his decision to defend himself rather than to appoint lawyer and to obstruct the process at some points as well, many Serbian and international jurists believe process against Šešelj is a political one; the same position is shared even by his political opponents. There is no verdict until today.
While Šešelj`s being at the detention, his party collapsed. In 2008, SRS vice-president Tomislav Nikolić and secretary general Aleksandar Vučić decided to turn against Šešelj`s "ideology of Serbian nationalism" and embrace pro-EU stance. Nikolić and Vučić founded new party; in 2012 elections Nikolić became Serbian President, and Vucic Deputy Prime Minister. For the first time in its history, SRS failed to pass 5% threshold to enter the Parliament.
Zoran Krasić, SRP vice-president is among the rare Šešelj`s supporters from the old time of Radicals. He is faithful to Šešelj`s vision of creating Greater Serbia which would encompass today`s Serbia, as well as Montenegro, Bosnia-Herzegovina and large parts of Croatia. Krasić is also Šešelj`s legal advisor. In the interview for IBNA, Krasić stressed that Šešelj is political prisoner exposed to torture for almost 11 years spent at the ICTY`s detention.
Sentence pronouncement was scheduled for October 30th. However, after Šešelj`s demand for judge Fredrik Harhoff to be disqualified from the Jury had been adopted, the pronouncement was delayed for the undefined period of time. On one hand, there are expectations that the sentence would be pronounced soon; on the other, some lawyers suggest that the trial could start from the beginning and could last for years. What do you think?
"It is obvious that Vojislav Šešelj – by demanding the disqualification of judge Harhoff – has proved that the Jury found itself in legally unsolvable situation. The only thing they could do is to reach some resolution in the interest of justice. Nonetheless, the fact that Vojislav has been at the detention for almost 11 years is unavoidable and it cannot be justified as well. There is no way to present the process as the fair one, given the fact that the Court is illegal. The decision to delay the sentence pronouncement had been reasoned by the claims that the review procedure started and that Jury's legal advisor left the court. This reason sounds like ICTY did not paid the electricity bill, so the Court is out of power and Vojislav has to stay at the detention. Vojislav is exposed to torture 11 times more than any other detainee. There is no better example of abuse of power in contemporary legal practice. They should let Vojislav free."
Do you have any expectations with regard to Šešelj`s comeback to Serbia?
"It is difficult to talk about expectations, because the Tribunal is not attached to its own legal standards. To put it simpler, it became obvious that the Prosecution has no credible indictment. For instance, in the part of the indictment that deals with the events in Vukovar during the war, the paragraphs from indictments against Mile Mrkšić and Miroslav Radić had been rewritten. During those events, Vojislav Šešelj was in Banjaluka. Vojislav is a political prisoner; he is 11 years at the detention due to the assessment that he could be enormous obstacle on Serbian path towards European Union. The Tribunal made a deal with Serbia about his detention".
Recently, Serbian Radical Party launched the campaign "Šešelj is coming back".  What was the basis for such a campaign if you were skeptical with regard to his comeback?
"The campaign was founded in the fact that the sentence pronouncement had been scheduled for October 30th; the only possible consequence would be Vojislav`s release from detention. He is absolutely innocent. All other indictments based on the hatred speech had been annulled."
How would you comment the claims that Šešelj behaved self-destructive and delayed his own release by demanding judge Harhoff`s disqualification?
"These comments suggest that he is guilty because he is alive. The objective of the process is not to assess someone's image in the courtroom. The point is about Vojislav`s defense, and he was very successful in this regard. I repeat: he spent so much time at the detention as a result of a deal between Zoran Đinđić and Carla del Ponte (Del Ponte, ICTY`s ex-Chief Prosecutor, claimed that Đinđić, former Serbian PM, told her "take him and never bring him back" at the time). The aim was that Vojislav should stay at the detention as long as possible. For example, he got the right to defend himself four years after he submitted the request, unlike Slobodan Milošević who obtained it after few days. There is no sentence which was written so long, as in Vojislav`s case."
Do you think that SRS would recover from electoral defeat and return into the Parliament if Šešelj would stay in The Hague?
"I think that people in Serbia are getting aware that the promised political changes had not been realized. One EU player (former government) had been replaced with another. People would not be gullible and reckless. Serbia would enter EU maybe in 14 years, under some conditions. Therefore, there is maneuver room for us. Radicals are growing."
It is well known that Radicals had never creating pre-electoral coalitions. Would you search for some partners next time?
"It is up to party organs to decide. However, all the other parties are pro-European."
And what about Democratic Party of Serbia (of the former PM Vojislav Koštunica)? They are Euro-skeptical.
"I am glad to hear that they are not pro-European, but we need evidences. During their term, 17 Serbs have been extradited to The Hague and Serbia became Partnership for Peace member. Hence, we will probably go alone into elections."