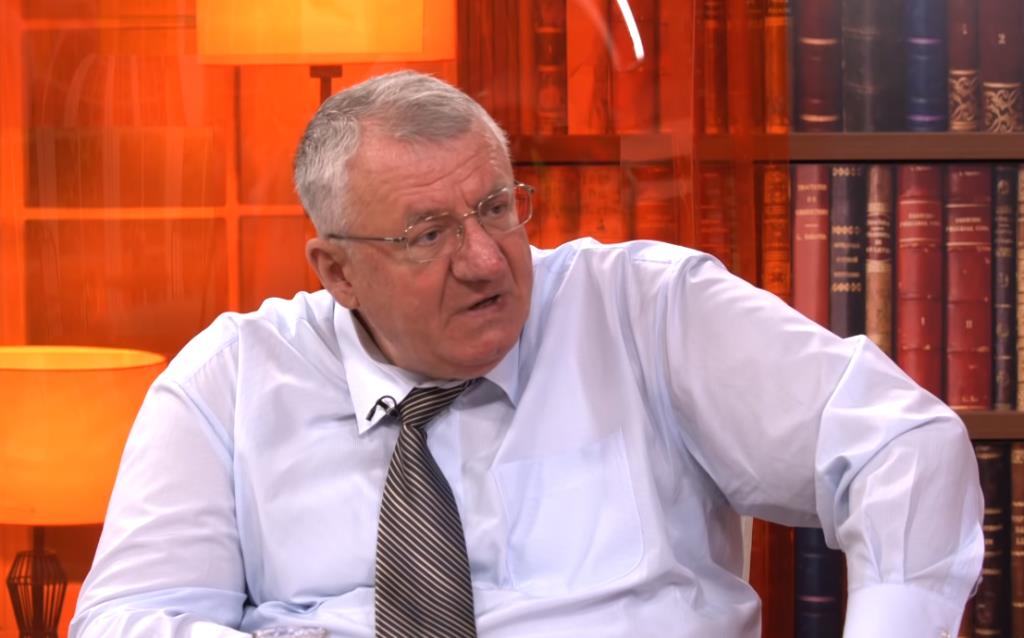 Convicted war criminal Vojislav Seselj has insulted and posed threats against Snezana Congradin, a journalist of Serbian daily Danas, due to her article on Srebrenica genocide.
Seselj, who is Member of Parliament and leader of the far right Serbian Radical Party (SRS), spoke at the National Assembly session on Tuesday. Seselj said that he would convict Congradin and "those like her" to 20 years in prison and suggested that he would run them over with his jeep.
According to SRS leader, Serbian Criminal Code should be amended in order to punish all those who label Srebrenica massacre as genocide. In 2004, the International Criminal Tribunal for the former Yugoslavia has decided that the Srebrenica massacre was a genocide. However, Serbia does not accept this.
Snezana Congradin said that she was not surprised with Seselj's assault, adding that she does not expect any reaction from the government.
"You have heard for Snezana Congradin, she is very ugly, she is even uglier than Stasa Zajovic", Seselj said in the Parliament alluding on peace activist and member of Women in Black movement.
"This Snezana Congradin, who looks like mongoose, writes, can you imagine: 'I am journalist in a country which has committed genocide 24 years ago and which has not come to terms with that fact until today…'", Seselj told lawmakers of the ruling Serbian Progressive Party (SNS) led by President Aleksandar Vucic.
"She labels you as war criminals", Seselj underlined turning to SNS MPs.
SRS leader went on saying that he would convict "any such journalist to 20 years in prison". "She (Congradin) would be excellent opposition leader, she is uglier than Djilas (Dragan), Bosko Obradovic, Sergej Trifunovic and Vuk Jeremic", Seselj said, singling out heads of the opposition parties.
He said that he "would know" what to do with "people like her". "If I run over someone with my jeep…"
Congradin told FoNet news agency that she was not surprised with insults and threats. In her words, government would rather defend Seselj than her.
"It is terrifying when one is insulted by Seselj. On the other hand, the issues which are censored by the state apparatus are going into public in this way", Congradin said.
She said that she has already been receiving threats via social media. When asked whether she was frightened, Congradin said that she was equally worried for herself and her colleagues.
In her words, there are even more serious threats against journalists, suggesting that very few things in Serbia occur without the permission of President Aleksandar Vucic.
She concluded that Seselj's threats will not prevent her from writing about the Srebrenica genocide.
Vucic and Seselj had been been close allies some 15 years. Although Vucic distanced himself from Seselj, creating his own party in 2008, old associates obviously collaborate. Despite his alleged opposition stance, Seselj does not criticize Vucic. In 2017, Prime Minister Ana Brnabic said that she "respects" Seselj.
The Serbian government does not find Seselj's mandate in the parliament problematic, taking into account the fact that the SRS leader is convicted war criminal.
The leading journalist associations, NGOs and some opposition parties have condemned Seselj's insults and threats against Congradin.
SNS Member of Parliament accused Danas for "hatred against Serbs"
At the same session, SNS lawmaker Aleksandar Markovic called Danas opposition Alliance for Serbia "bulletin". Commenting Danas articles, including interviews with prominent academics, diplomats and experts, Markovic said that these pieces "obviously" reflected "deep frustration and hatred against their own people"./ibna