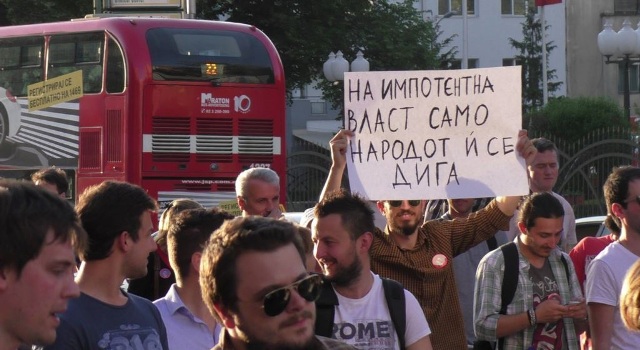 Skopje, 15 May 2015/Independent Balkan News Agency
By Naser Pajaziti
In FYROM, there exists a growing conviction now that the departure of the current government and the creation of an interim government may be the only way to overcome the deep political crisis.
Besides the opposition, political analysts, citizens and diplomats have made it clear that the current government must leave and an interim solution must be found.
Political analyst, Saso Ordanovski says that immediate changes must be made.
"The crisis in Macedonia can only be overcome by creating an interim government which would make the state more democratic. The problem is not for a government cabinet to be replaced by another, but also to make changes in the Media Authority and the resignation of the board of Macedonian Radio Television. We will not be satisfied with just the resignation of this cabinet. The list must be longer in order to have 'fair play'", declared for IBNA, Saso Ordanovski.
Margarita Caca Nikolovska says that the majority of people now think that this government must leave.
"The majority of people believe that the government must resign. The government is obliged to resign in this situation, in spite of eventual responsibilities that will later come out", says Margarita Caca Nikolovska, a law expert.
Political analyst, Ramadan Ramadani says that responsibility falls upon the Albanian party of the coalition BDI (Democratic Union for Integration), which is keeping VMRO-DPMNE of PM Nikola Gruevski in power.
"With the voting of the two new ministers of VMRO-DPMNE, BDI had the chance to penalize its partner. But it didn't do this. This makes me believe that the only role that BDI has in the government is to legitimize what is illegitimate. There are many arguments and developments that make the role of this party clear: it is directly responsible for the current crisis", says analyst Ramadan Ramadani.
Hundreds of protesters from NGOs gather every night in order to demand the resignation of the current government. Biljana Ginova, activist of human rights, says that this government must give way to democracy and the future of the citizens.
"Our first demand is for the government to resign and for the government to be investigated. But we also have other demands, such as the release of all activists and protesters arrested during the last protest. The third demand is the creation of a government which will restore trust on the institutions of the country and develop democracy", declared Biljana Ginova.
A protest has been called for Sunday, May 17 by the opposition, in order to demand the resignation of the current government. A day later, the party in power, VMRO-DPMNE has confirmed a counter protest. /ibna/