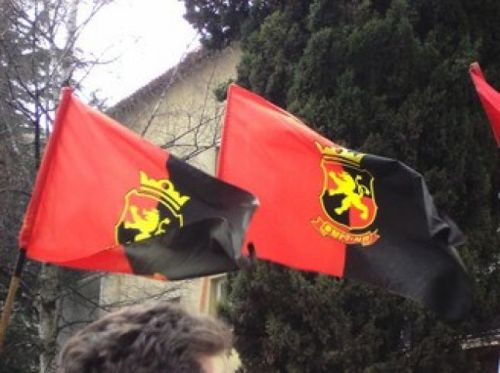 Skopje, November 29, 2013
Opposition party, People's VMRO led by former prime minister Lubco Georgievski has proposed the launch of a procedure to design a new flag of the state, acceptable for all the citizens of the country.
The request comes after the celebrations of November 28 and the constant problem with the use of the Albanian flag, which is massive on a day such as this one.
The party of the former prime minister says that in the Albanian national manifestations, Ministry of Interior and the government cannot guarantee the full application of the Law for the Use of Flags, therefore it proposes two solutions.
"The government must propose to parliament to change the Law for the Use of Flags and legalize these manifestations on field and secondly, a procedure should be launched for the adoption of a new flag of the Republic of Macedonia. We propose for a debate to take place with the participation of ethnic community", states the declaration of VMRO-PP.
This party stresses that the application of the current law on flags may lead to precipitation of inter ethnic tensions. /ibna/