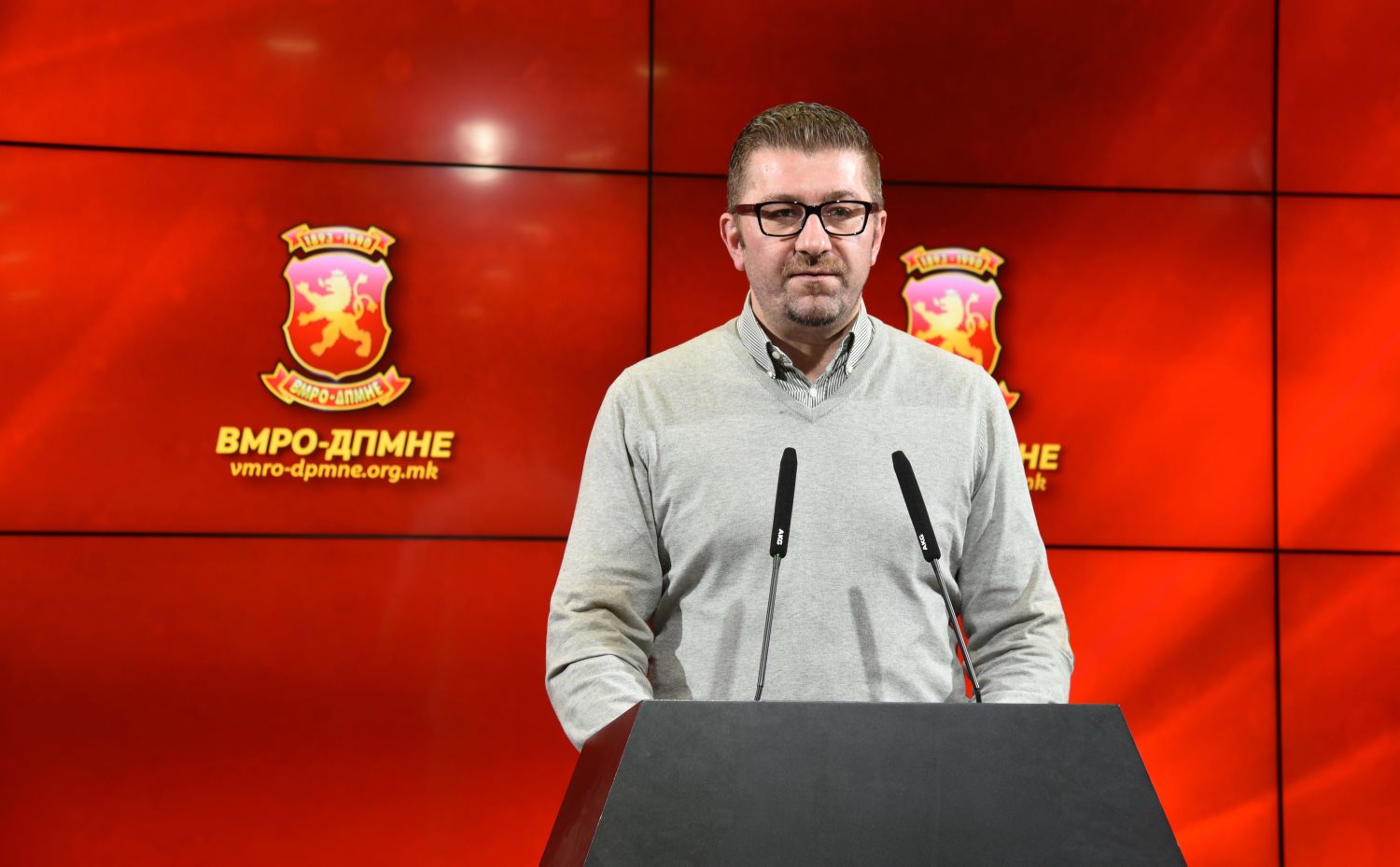 The economy is sinking, the citizens are getting poorer, the GDP is around zero, foreign reserves are reducing, we have less foreign investments for 100 million euros… warned VMRO-DPMNE leader Hristijan Mickoski yesterday from his cabinet in the party headquarters. He also announced meetings with three MEPs: Kukan, Vajgl and Fleckenstein. Almost simultaneously, the main opposition party issued a statement saying that the actions of SDSM's government, and its work so far, are not in line with European values. Two consecutive press conferences were held in the White Palace, where Aleksandar Nacev and Goran Manojlovski reacted that the hearings were adjourned against Prime Minister Zoran Zaev for the inconvenience of the local government, which failed to handle ten centimeters of snow. Press releases and meetings with journalists have been a daily occurrence in the main opposition party, but it is a novelty that the new president has changed the way of communication, and from a few days ago there are video reviews about current topics. PR-strategy experts believe that this is a good marketing move, but that, in any case, the possibility of direct contact with the journalists has been lost and for further clarification of the views. VMRO-DPMNE, meanwhile, says that video calls are only a complement to communication with the media and with the citizens, while Mickoski continues to be available.
PR expert Mile Pacemski says that Mickoski's new practice is a modern way of communication. He explains that recent research in the IT sector shows that communication over the Internet is more effective if multimedia content, primarily videos and photos, are used.
"People want to see such content on their mobile phones, especially if they are short and simple. If this was the case, then it is correlated with those researches. However, I do not know the exact motive, so it should be said that classic press conferences, however, have other advantages. Journalists can get answers to questions they are interested in, ask questions, get the impression of that the author wants to say, and there is informal communication… Video calls eliminate this relationship and loses significant contact, a chance to clarify things, because one is when it is live, and another is through a computer, "Pacemski analyzes. According to him, the" encounters "through a computer are like a punishment and for that plans to communicate because it can not establish close contact with journalists. "So, there are both positive and negative sides. I do not believe that VMRO-DPMNE wanted to avoid something, because when you are in opposition it is easier to contact the journalists and the media. When you are in power, you want to avoid awkward questions," Pacemski concludes.
"The leader will turn through videos every time he / she senses that there is a need, that is, a theme that seizes the public's attention. He is not an MP and is not a bearer of the function, which is why he is not in daily communication with the media. We think that this kind of addressing will contribute to the expression of our views. But that does not mean that it will not go to press conferences and there will be no direct contact with the citizens and journalists, "VMRO-DPMNE explained. Communicologists explain that politicians have understood the power of the Internet, but warn that it will not bring them many points, and only a small mistake can turn voters against them. As one of the most typical examples of an Internet campaign in the history of world politics that played a key role in determining an election winner, the 2008 US Presidential battle is mentioned. Relatively unfamiliar Barack Obama defeated rival John McCain, based on the campaign's slogan: "What would motivate me to vote? The whole campaign was uploaded to his website. Engaged volunteers were tasked to bring new supporters, who would "llike" his page or attract donors. Although Facebook was not so popular at that time, Obama knew how to use his strengths, so he regularly posted events, discussions and announcements, as well as a multitude of videos, and even instructions on how to vote. On Twitter, he had four times more followers, and on YouTube produced as many as six times more videos than his opponent. Obama surprised millions of video game users where his ad appeared. Interestingly, the same strategy was offered to McCain, but his marketing team refused to think that it would have any effect.
Goran Adamovski…/IBNA