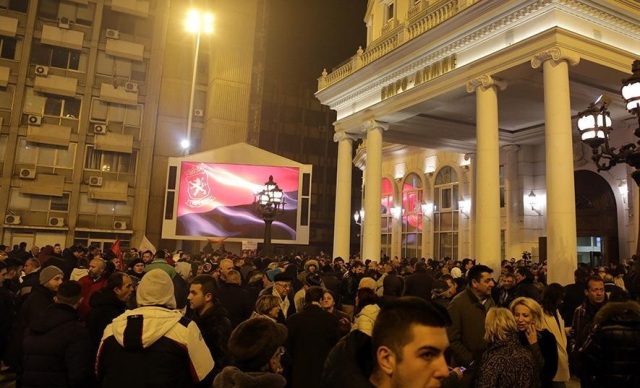 VMRO-DPMNE led by Nikola Gruevski warns tensions in case a government is formed between SDSM (Macedonian Social Democratic Union) and BDI. This warning was also repeated in the meeting held last night between the head of this party and British Minister of State for Foreign and Commonwealth Affairs, Alan Duncan, who is on a visit to Skopje.
"We will do everything to preserve peace and stability, but we don't know how things will go. There will be tensions, because people are worried. Macedonians are frustrated about the fact that there will be two languages in the entire territory. We don't think that such government will attain its objectives in such atmosphere. Therefore, we propose new elections", VMRO-DPMNE declared after the meeting with the British minister.
VMRO-DPMNE says that its reaction comes as a result of the fact that it won the elections and that this should be the party that should form the government.
The British minister Duncan said that the creation of the government is a domestic issue. VMRO-DPMNE said that they have a long list of steps that can be taken in case a government is formed between SDSM and BDI and if the bill on the two official languages is passed.
Leader of SDSM, Zoran Zaev, who has been staying in Sarajevo as of yesterday, has said that he has secured the signatures of 61 MPs to form the government. According to him, the government will be formed in the next 10 to 15 days.
"All is left to do now is for the heads of other parties to sit down and agree on the division of power and in 10 to 15 days, Macedonia will have a government led by SDSM", Zaev said.
The new government will consist of SDSM, BDI and Alliance for Albanians, but part of it may also be BESA Movement.
Meanwhile, VMRO-DPMNE with its 51 seats will remain in opposition. Tonight, a Slav-Macedonian organization called "Trdokorni" (Strong roots) will hold a protesting march, where demonstrators will be clad in black, as a sign of revolt against, according to them, the state interests that will be hurt in case of a new government led by SDSM, which has announced that it will make the Albanian language an official language in the entire territory. /balkaneu.com/