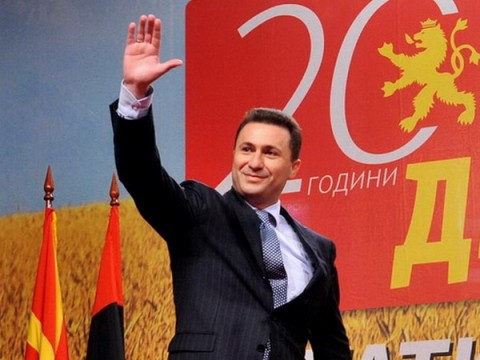 Skopje, July 9, 2014/Independent Balkan News Agency
By Naser Pajaziti
VMRO-DPMNE of prime minister Nikola Gruevski has reacted today against the declarations launched last night by the Albanian prime minister, Edi Rama for the latest developments in the country.
VMRO-DPMNE declared that the radical protests taken place in the recent days in the country had no connection whatsoever with the Ohrid Agreement or cross ethnic relations. "On the contrary, the organizers of the protest conceal their radical agendas, causing bewilderment and by mobilizing many supporters, lying them that injustices are being made and that the rights of Albanians are being put at risk.
This cannot be accepted, because this situation has no connection with the organizers. These protests are motivated and are a product of Islamic radical elements, who object to the ruling of an independent court for the punishment of the authors of the barbaric killing of five persons, four of who were young boys", says VMRO-DPMNE.
This party says that it condemns every attempt for these protests to be associated with cross ethnic motives and it doesn't accept Islamic radical elements to hide behind ethnic dimensions, generating tension and division.
"Also, in the context of Mr. Rama's declaration and bearing in mind the fact that he will not be prime minister of the Republic of Albania for a long time, we invite him to pay a visit to the areas where Macedonian ethnics in Albania live and see their living conditions. After this, he can compare them to the conditions in which Albanians in the Republic of Macedonia live", underlines VMRO-DPMNE.
Prime minister Edi Rama has considered the failure to comply with the Ohrid Agreement as the main reason of the recent clashes in FYROM.
"What was seen in Macedonia deserves attention and maturity. Ohrid's agreement was not only endorsed by Macedonians and Albanians, but international partners too. If the two sides need more maturity, all three sides need to reflect", said Rama last night on the occasion of an Iftar hosted with Muslim believers in Tirana. /ibna/